Primarily I design and decorate homes, and occasionally refinish or repurpose furniture.  But this week I branched out into somewhat new design territory.  I guess I'm sorta known among my friends for being the "creative" one (a compliment and certainly not the worst thing they could call me).  One friend decided to throw her daughter a huge sweet 16 birthday party and enlisted the help of her friends to do everything from catering to sweets to decorating … that's where I came in. (Friend Colette provided catering and dessert with her company ColMoni's Catering and it. was. fantastic!)
The party would be held in my friend's very spacious home and host over 100 friends and family.   Much like designing any other room, we began with an inspiration piece to base the rest of the design on.  Our inspiration began with the gorgeous invitations which featured a watercolor floral motif with periwinkle as the feature color and splashes of other shades, deep and light pink, light and dark green and a range of blues and purples.   We decided to decorate the expansive basement dance floor with streamers of tulle and tissue paper pom-poms in this same range of hues.  Here are some of the material basics that we utilized.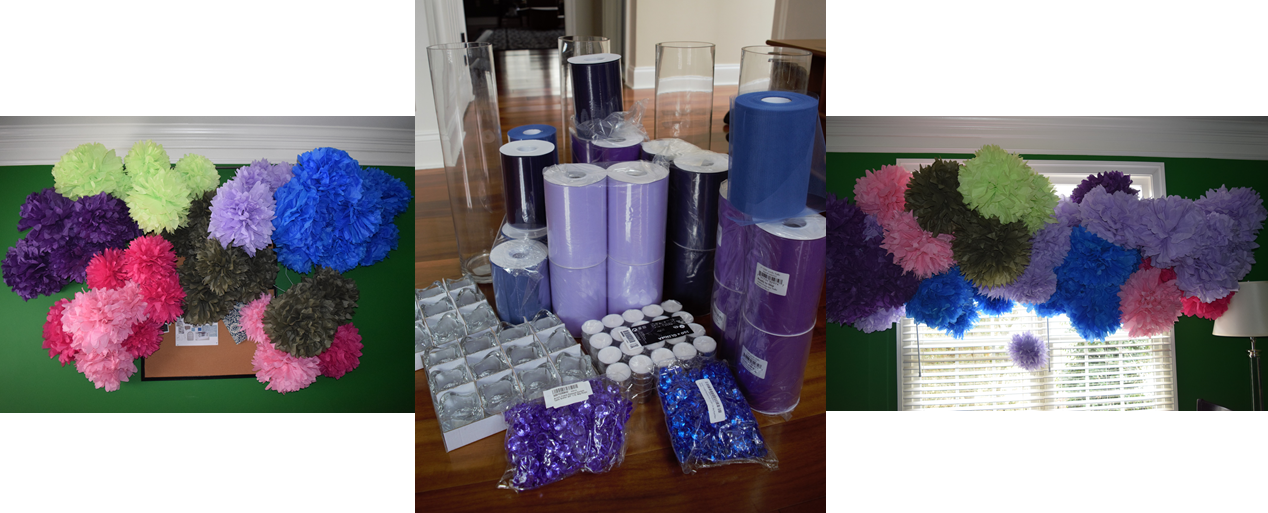 There are about a million tutorials out there for making tissue paper pom-poms and it really isn't that hard but it IS time consuming.  We made over 125 tissue paper pom-poms of varying size and color.  To say it took a long time is an understatement, but the end results were all worth it.  We put pom-poms on the dance floor, we put them over the cake table, over tall drink tables, on the cake table, at the home entrance, and hanging from the balcony.  All of those same areas were also adorned with varying shaded swags of blue and purple tulle ribbon and fairy lights.  I think the overall effect was exactly what  we were going for, transforming a stately and elegant home into a fun and whimsical setting for a Sweet 16!  Here's a few preparty shots in daylight.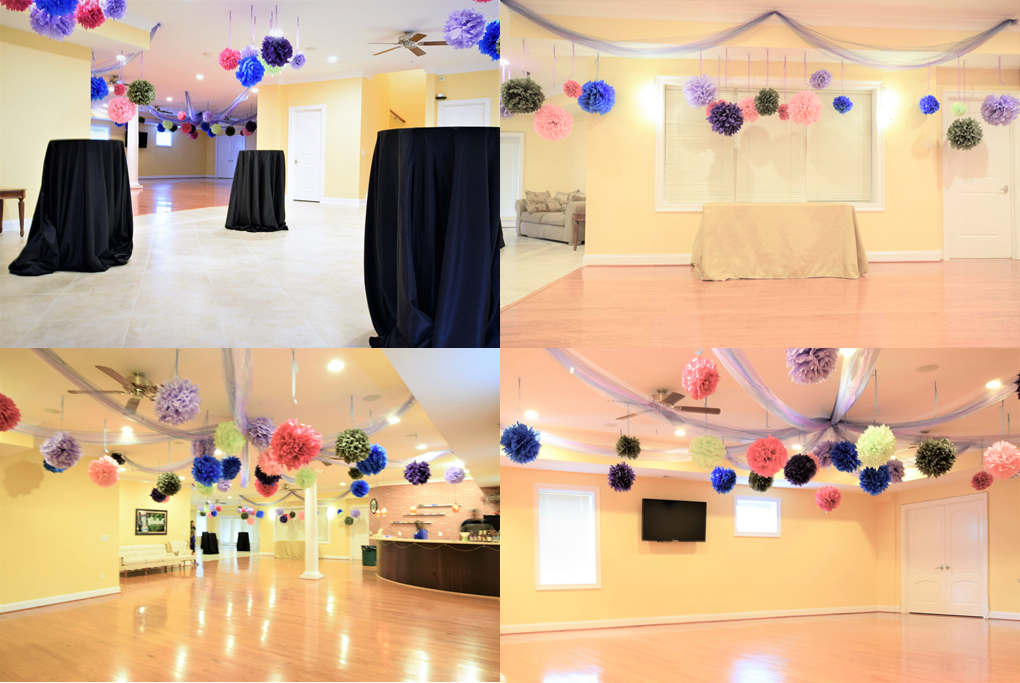 These are a few evening pics during the party (please forgive poor cell phone quality).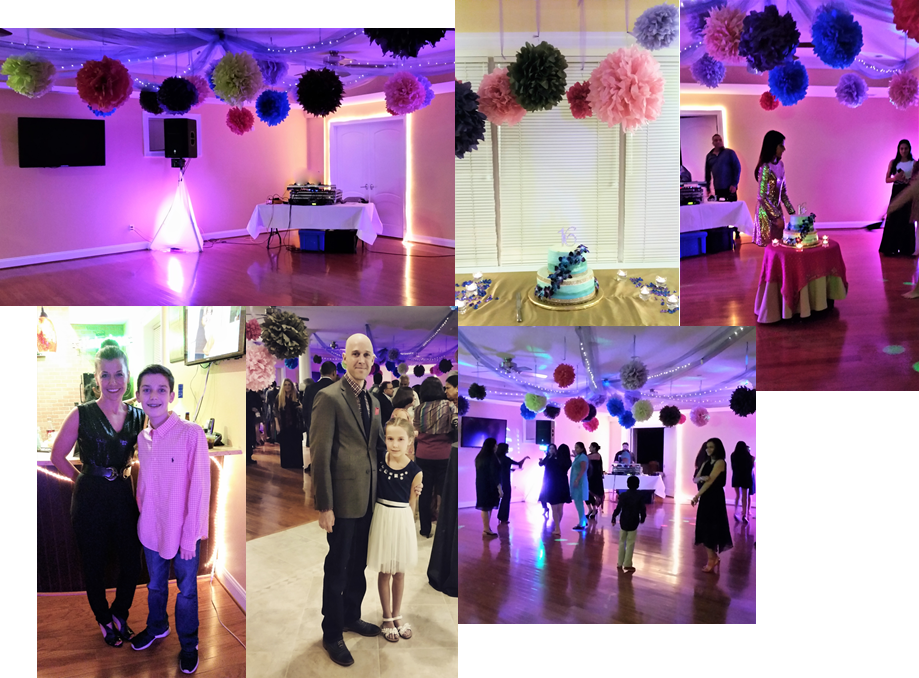 As you may have noticed I have a love affair with flowers so I was very excited to also design and arrange four statement centerpieces.  We selected a tall vase filled with hydrangeas, curly willow, monstera leaves and purple statice accent.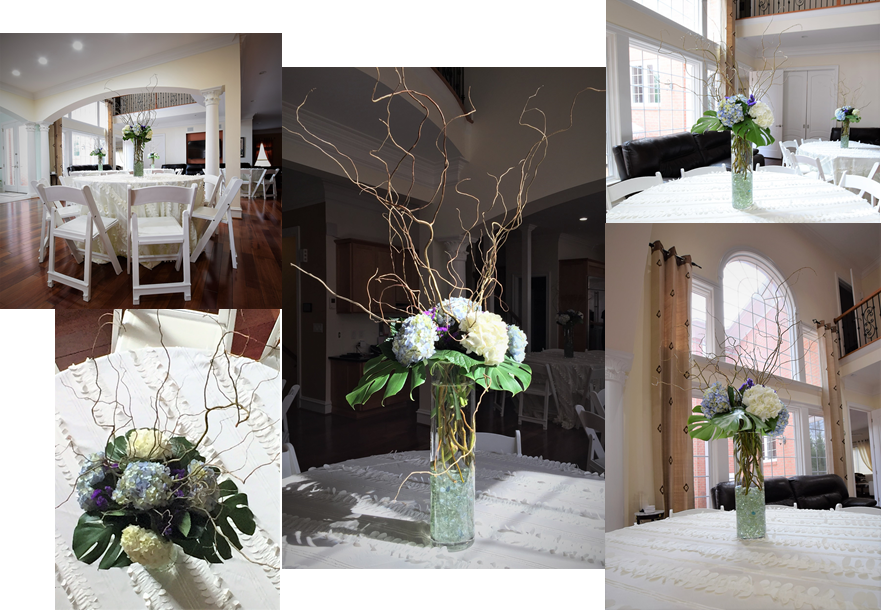 While decorating parties isn't the core of my business, I think I'd love to take on a few more and really perfect this design art!