Keeping up with the latest holiday design trends can be expensive, especially if you like a fresh look every few years.  Here we show you two very similar options for upgrading your holiday decor, with some staple items like a good tree and wreath as well as a few decorative accents.  The highbrow version can be yours for the yowza price of $3,525 while the low budget version can deck your halls for just $942!  And the looks are strikingly similar and both on trend for this holiday.
Highbrow
The highbrow version features a Frontgate faux tree with lights, and truth be told they DO make a really nice faux tree, but in reality you could buy a REAL tree of the same size for 30 years before you reach the cost of this tree.   This wreath is gorgeous with apples and varied greenery and rusty jingle bells and adds to the traditional yet natural vibe of this collection.  The most ridiculous item on this list is the large 29″ nutcracker from Crate and Barrel.  It's price was originally $1200 but if you like a sale and still want to throw away money at the same time you can have it for $940- yikes!  Faux fur, plaid, and velvet keep you totally on trend for this holiday in the pillow, stocking and tree skirt.  Finally, I think this candleholder may be real antlers, ew,  but it is quite a statement piece, and at $575 it had better be!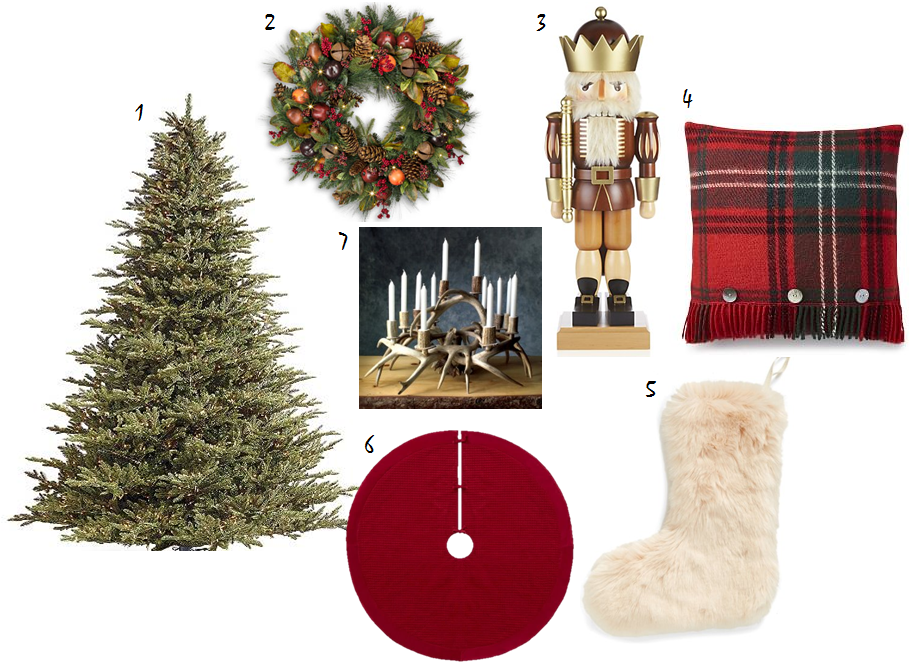 Frontgate Fraser Artificial Pre-lit Christmas Tree 9ft  $1500
Charlestown Decorated Wreath    $200
Natural King Nutcracker   $960 (yikes…that's the clearance price!)
Tartan Wool Pillow Cover with Fringe, Red  $100
Cuddle Up' Faux Fur Christmas Stocking   $40
Quilted Velvet Tree Skirt, Chili Pepper $150
Antler Candle Centerpiece  $575
Low Budget
Certainly, there are a few high end tree brands, but in reality, once you get it decorated with all your ornaments, will it really look all that different from one that you spent a fraction of the price on?  This tree, from Home Depot, is also a very full, 9 ft Fraser Fir, still isn't "cheap", but looks realistic and is almost a third of the cost of the highbrow version.  This low budget wreath adorned with faux apples and pine cones  has a beautiful natural look.  The over 2 ft tall nutcracker is much more affordable than the highbrow version and looks just as great.  I think I may even pick up this plaid pillow with excellent frayed edge detail, it'll be a great sofa accent all winter long.  The big shocker of this group is the antler candleholder, which is totally fake, (whew, I feel so much better about that), and is $553 cheaper than the dead deer version!  Truthfully, it IS smaller, but at that price you could buy three of them to create the same scale and still not even be close to the highbrow price.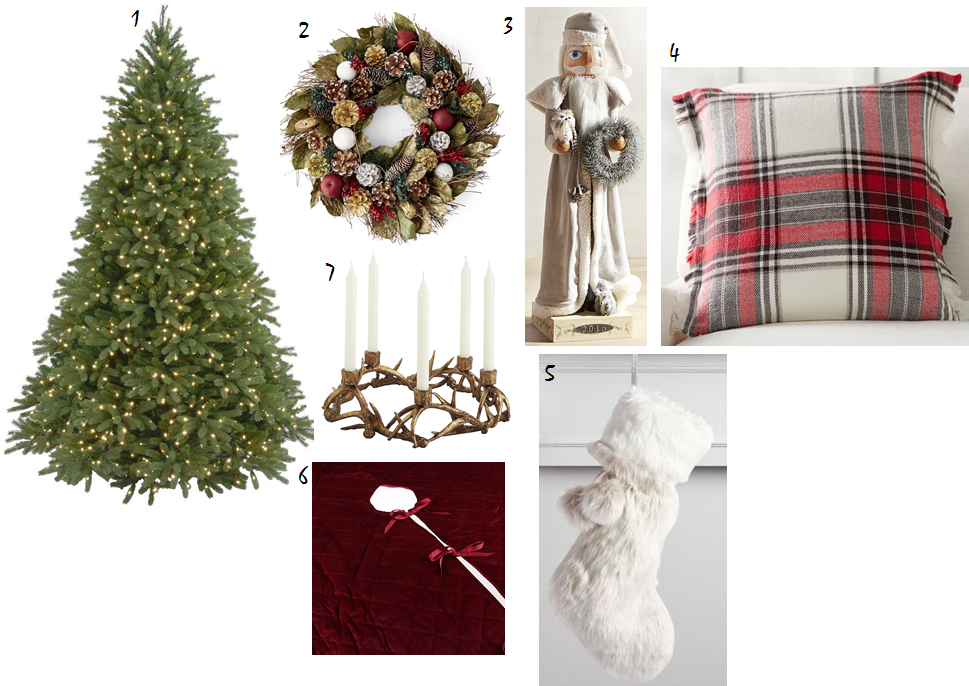 9 ft. Feel-Real Jersey Fraser Fir Artificial Christmas Tree with 1500 Clear Lights    $600
Winter Berry Scented Wreath  $90
Father Christmas Santa Claus 3′ Nutcracker   $144
Hamilton Plaid Pillow Cover  $36
Grey and White Faux Fur Stocking  $20
Quilted Velvet Christmas Tree Skirt in Burgundy  $30
Gold Antler Taper Candle Holder Centerpiece  $22
What will you do with all of these holiday savings?  Maybe make a donation or buy a gift for a child in need this season.  Happy Holidays!