In the last post I took you through the main level of our big renovation adventure, "before edition".  Today I'd like to take you through the downstairs.  Well, actually, I don't want to, because it's a bit embarrassing.  It's the basement level of our 5200 sq foot house and the basement is just as long and rambling as the upstairs. Right now it's filled with moving boxes and furnishings scattered aimlessly.  Our justification for this helter-skelter appearance is, "Why bother to take a ton of effort in establishing this space as livable rooms since so much of it will get renovated?" Maybe this is lazy, but we're saying it's practical. So hold on to your hats for this messy tour.
The 2 really great things about this basement are that a) one side is completely at ground level, so we have full sized windows and doors, rather than those mini basement windows and b) the basement stretches the full length of the house.  You can enter this level right from the foyer, which is a little odd.  Hopefully we can make the basement feel more like the lower level of the home than a basement so this setup won't seem so bizarre.
Basement Before Tour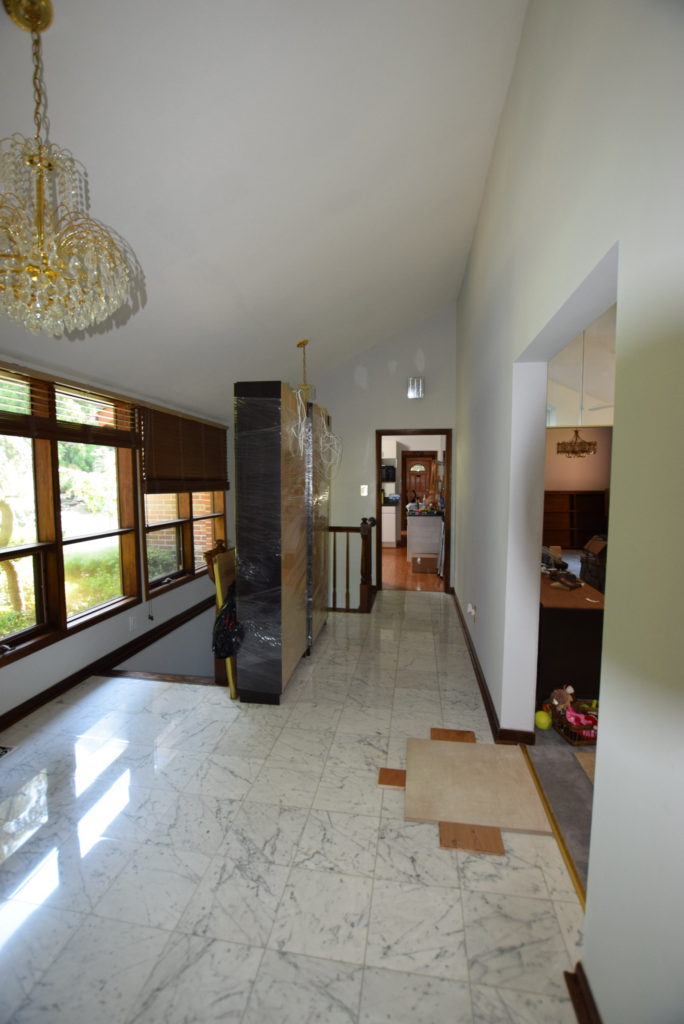 The stairs lead to the main living space which also shares space with a built in bar.  There is an interesting 3-sided box window (like a bay window but with 90 degree angles) that has a small seat area with awesome vinyl tile on the top.  This room also has a 2 sided fireplace and like most of the basement, a drop ceiling.  The bar area looks straight out of the 70's with wood paneling, linoleum flooring and lots of mirrors.  The bar's saving grace are the pendant light fixtures which are actually kinda cute.  Mind you, they neither go with the wood paneling nor are they my taste nor will they coordinate with the future style of the home, but they are sweet little fixtures.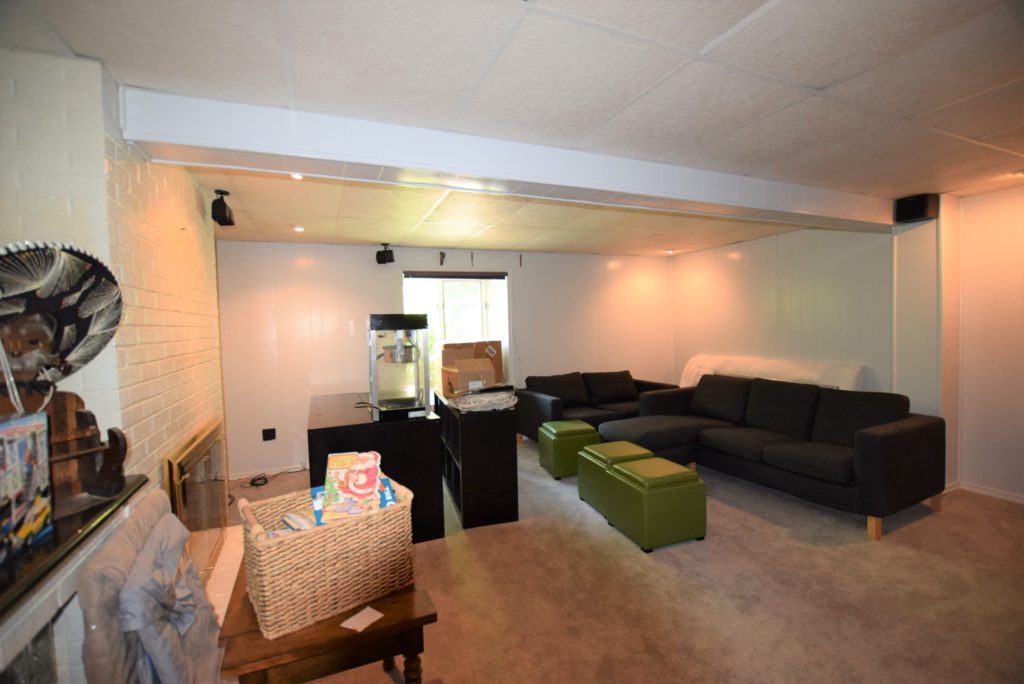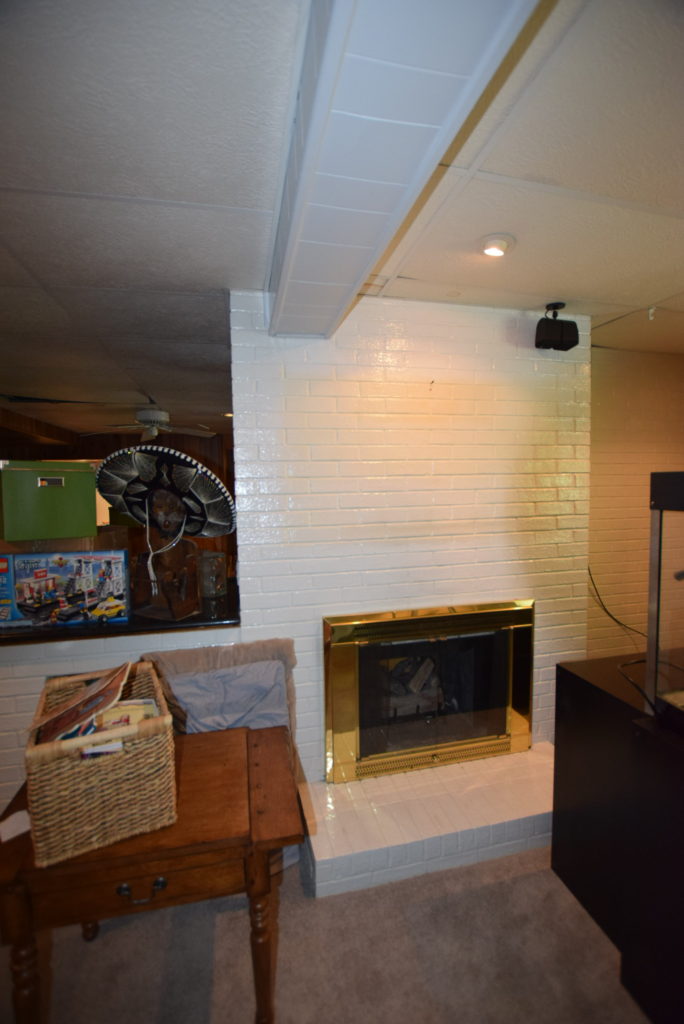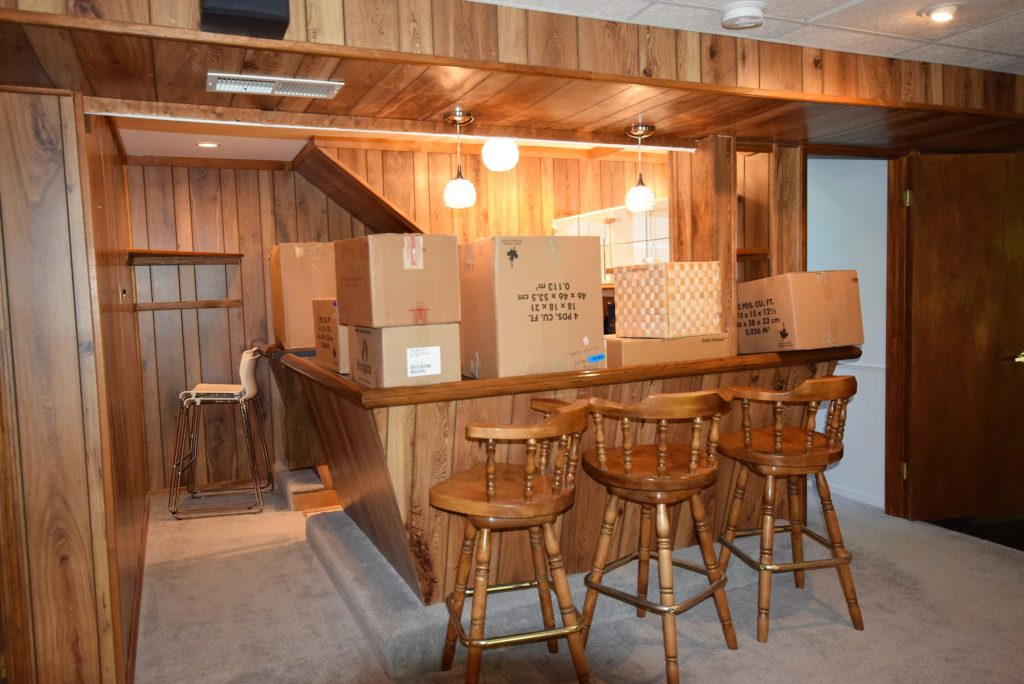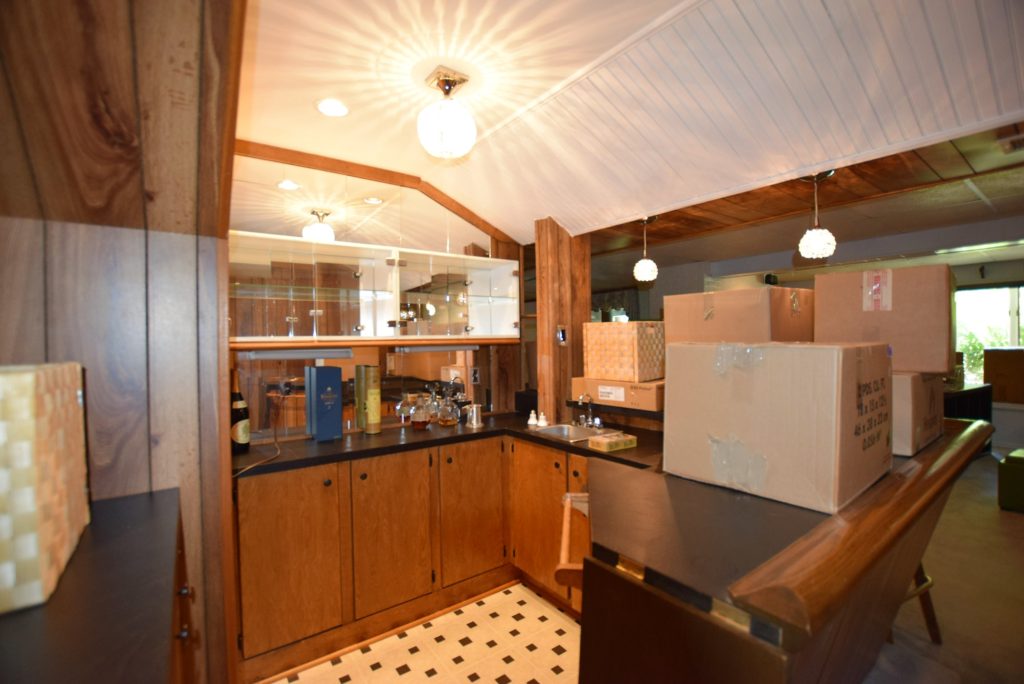 Around the corner from the bar is a wide hallway  which houses the utility room hidden behind sliding mirrored doors.  There is a very small room on the right that was at one point a home office. I know I won't be able to use it as my home office because there are no windows.  The current  laundry room is also off the hallway and doubles as a storage room.  The utility sink got a quick facelift this week with leftover Rustoleum Tub and Tile paint (more in a future post) and the washer and dryer will eventually be moved upstairs to the mudroom.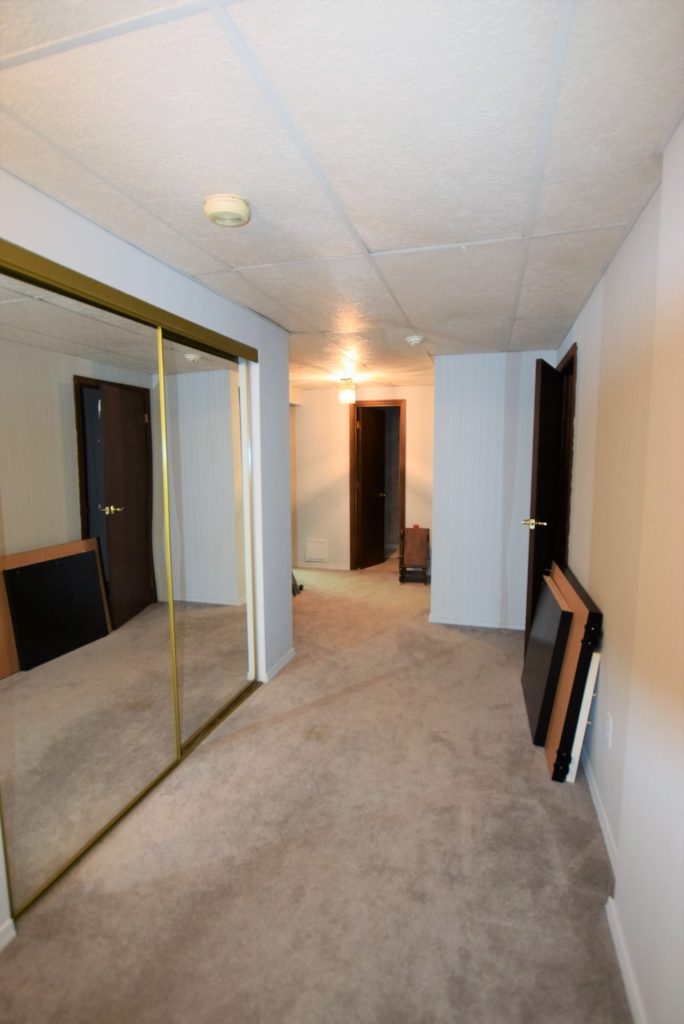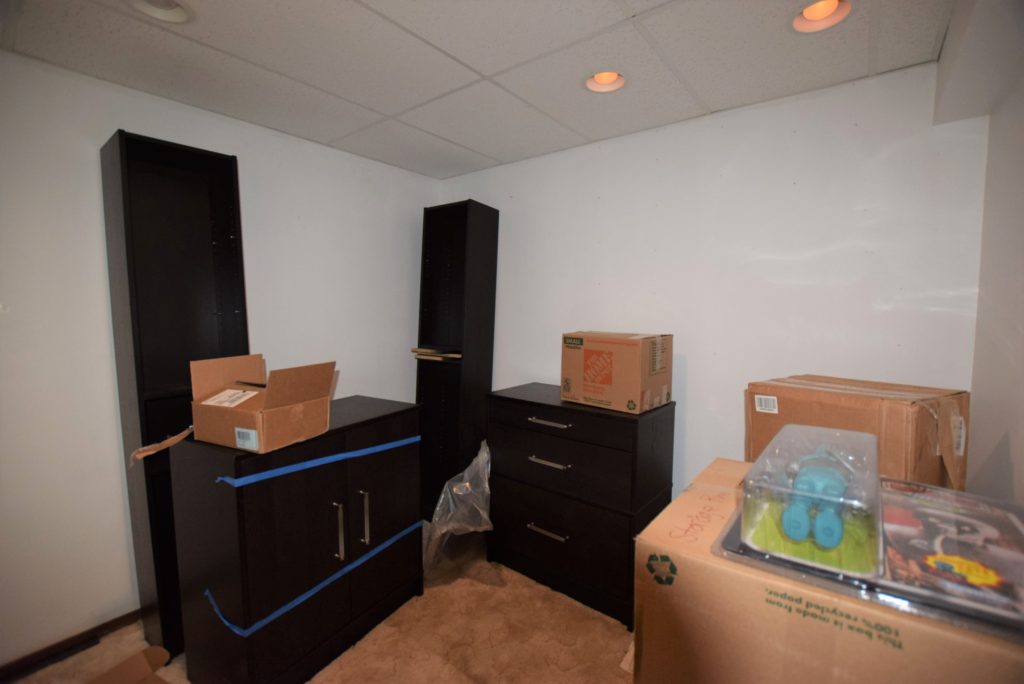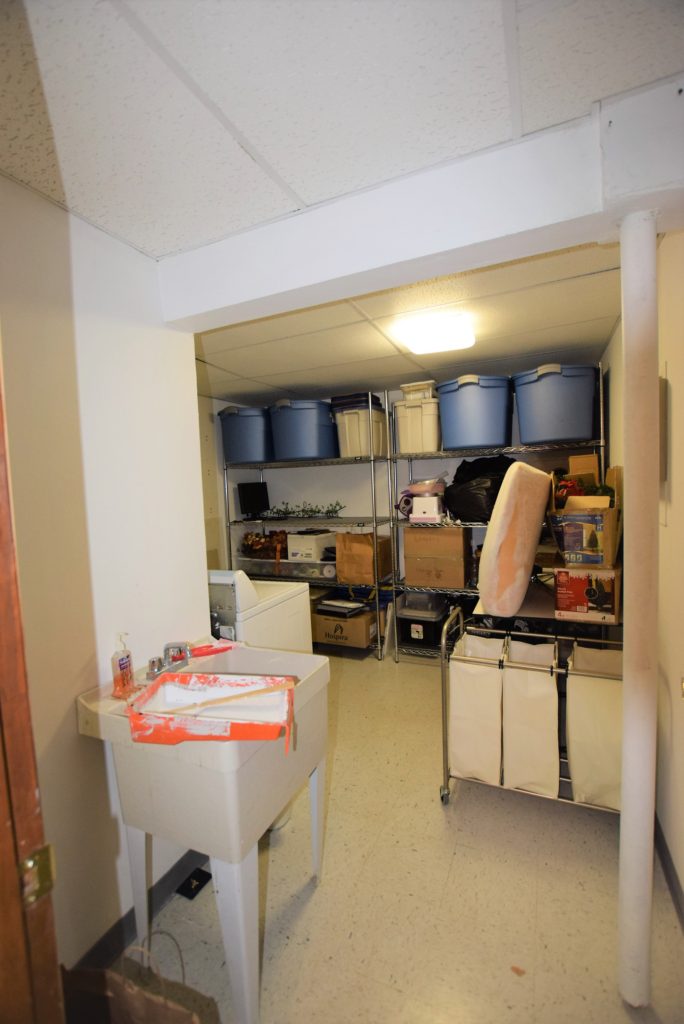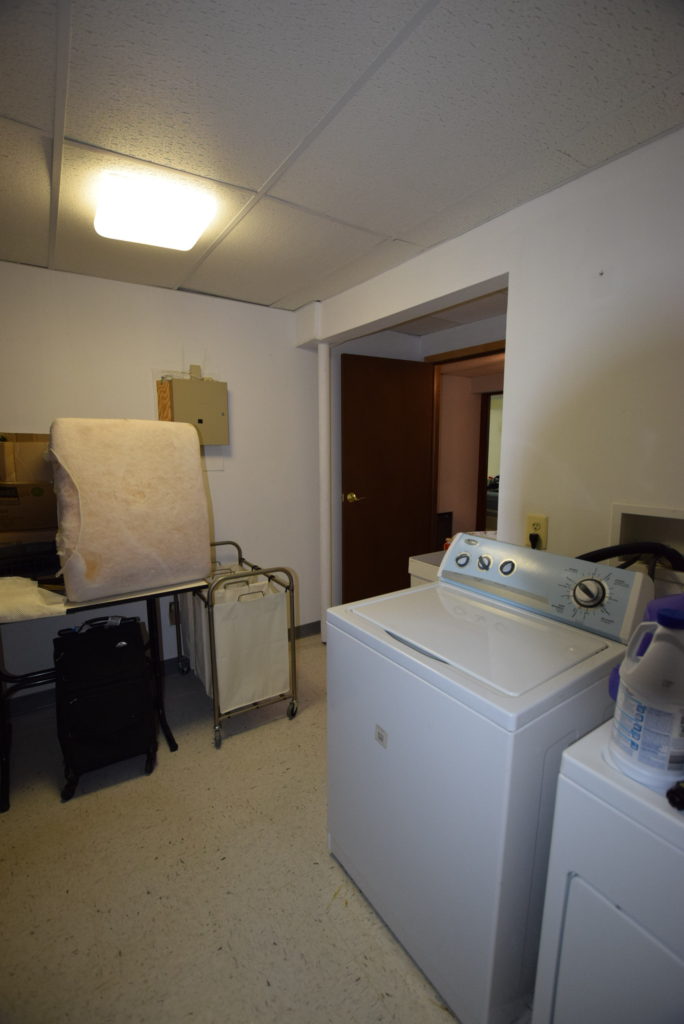 There is a small bathroom at the end of the hall. Oh, how I wish it was closer to the exterior door to service the pool!  We can at least work on updating the finishes and fixtures.  We'll also look for a way to rearrange the shower since there is a large HVAC soffit running right over the shower head.  This shower is for short people only!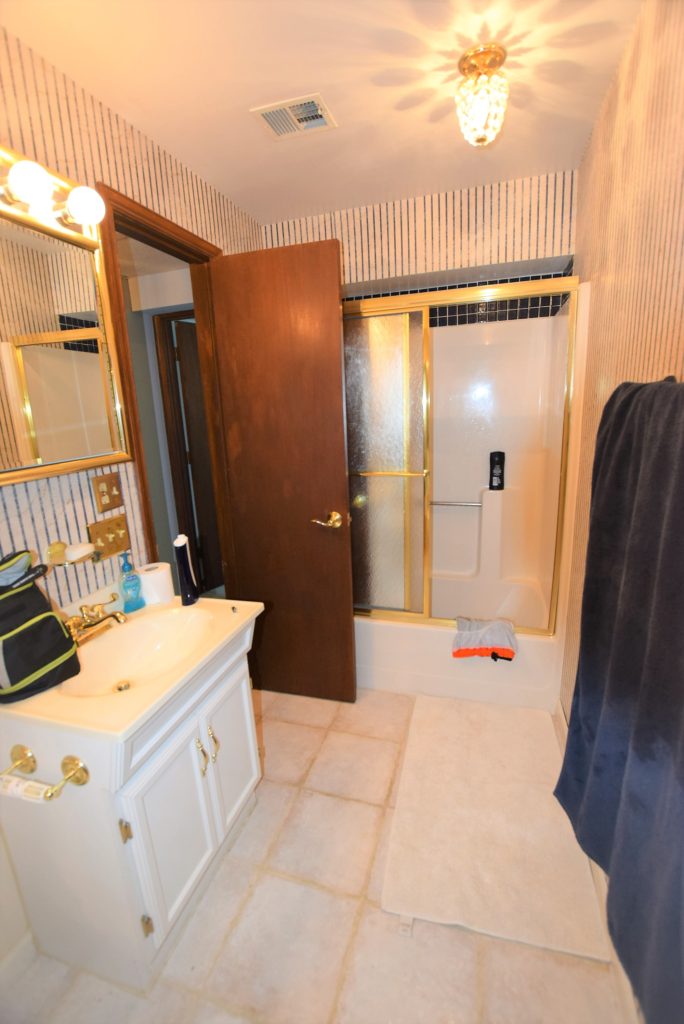 Two bedrooms at this end of the home have flowered wallpaper, mirrored closet doors and carpet.  However, to their credit, they each have a full-size window overlooking the pool and patio and a real drywall ceiling.  I can't believe I am getting excited by drywall ceilings.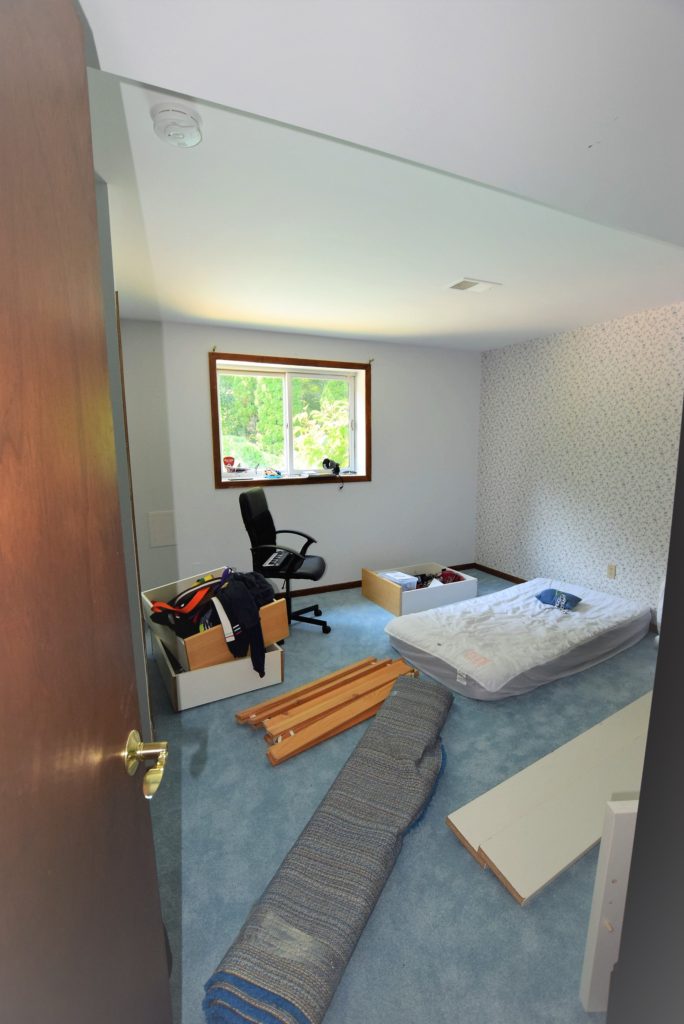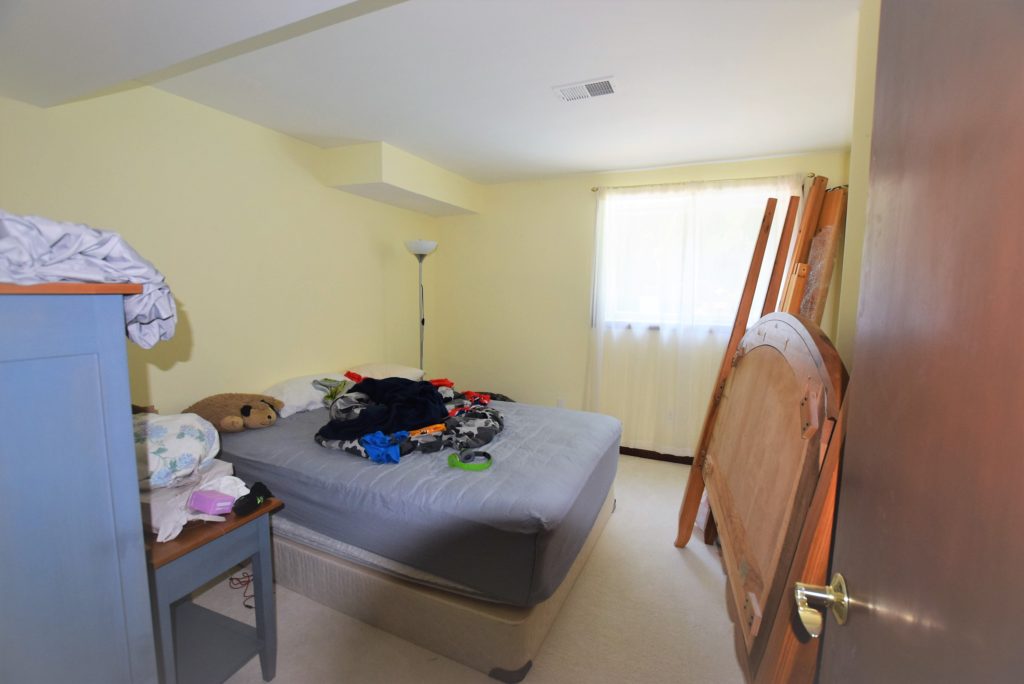 An awkward large foyer-ish space with sliding doors that lead outside to the back yard is on the opposite side of the steps leading upstairs.  Even with the large doors this portion of the basement is still very dark because the adjacent exterior is covered by a deck.  Adding to the darkness is a deep grey slate floor, which doesn't sound that bad, right?  Buuuuut, it's bad.  It's bad because the slate is coated in some sort of high gloss impervious sheen.  I don't know why anyone would do this to an otherwise perfectly good slate, but it is what it is, and therefore it will change.  Note the chair underneath the askew ceiling tile is where we found another leak in the house.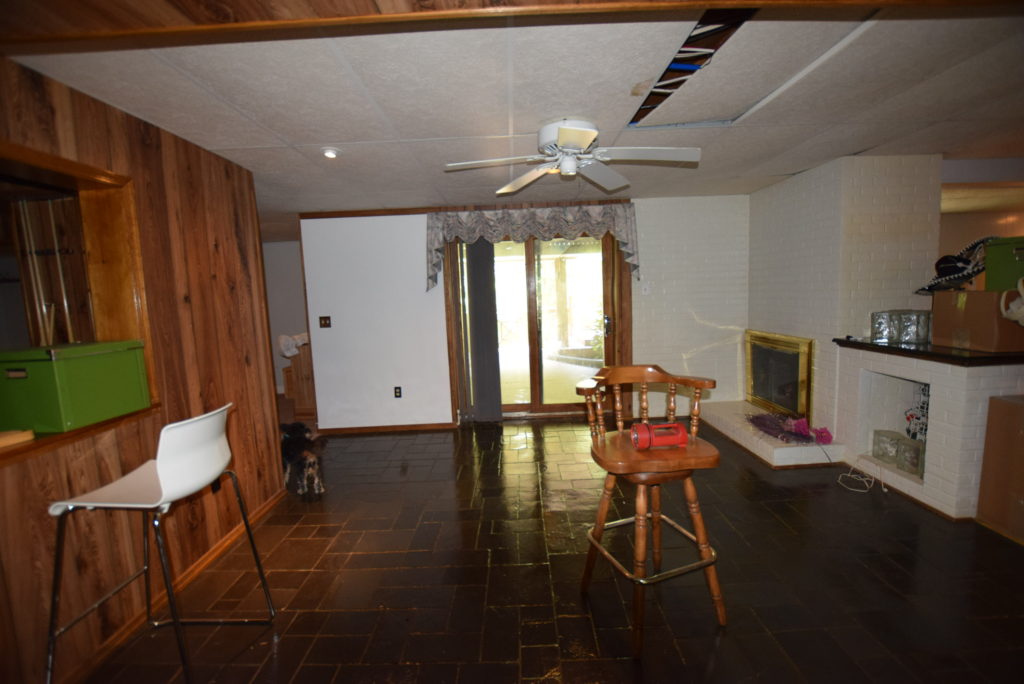 The small gym is located just behind the foyer area.  It is covered from top to bottom in mirrors.  Big mirrors, little mirrors, rectangles, squares and cracked. I don't know how anyone worked out in there without getting vertigo from all the mirrored surfaces and mirror seams that weren't lined up perfectly.    It also has awesome fluorescent lighting so of course you'll look great as you gaze into those mirrors.  We would like to have a home gym but we may borrow some space from the shiny slate area and we will certainly redo the mirrored walls.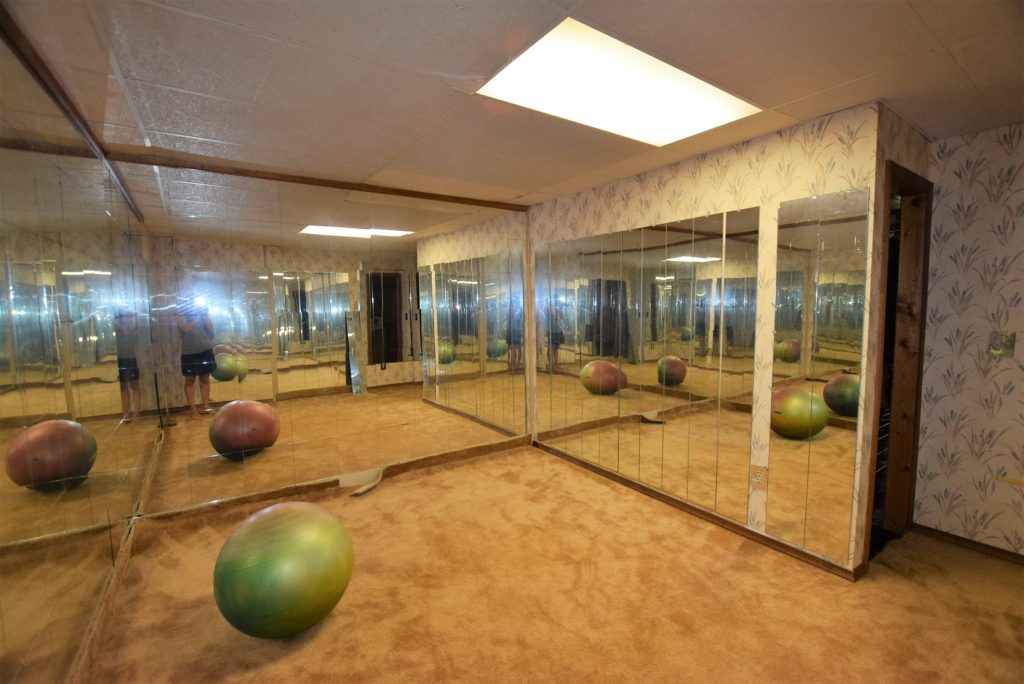 To the left of the basement foyer are 2 final rooms, one with a window that looks out to the defunct hot tub.  We're not sure what this room will be used for just yet, but are considering adding a bigger window or more doors to let additional light in. Just adjacent to this room is a nicely tiled room with some strange wood paneled pillars and half walls.  This room is home to the pool table and the coordinating Coors beer pool table light.  This area will remain a pool and game room but will see some upgrades in wall-covering, ceilings, and lighting.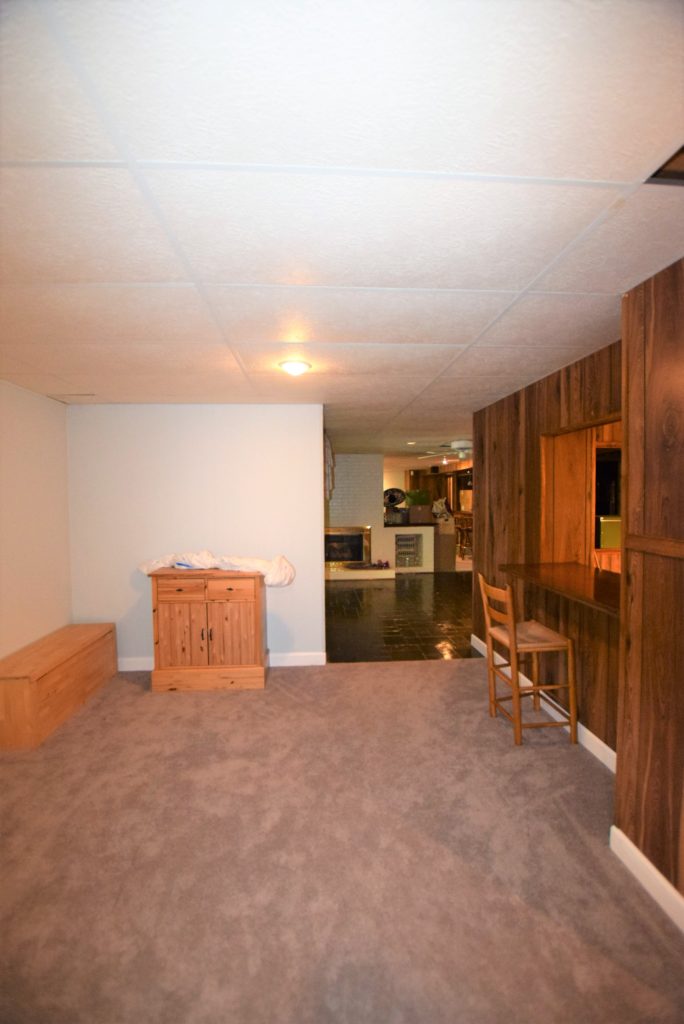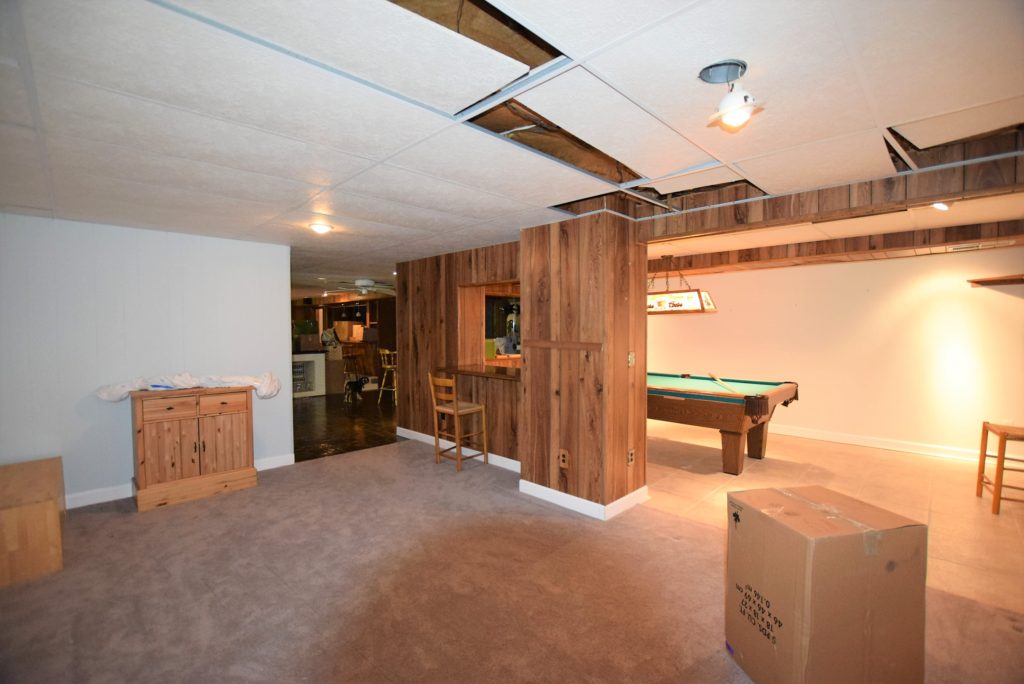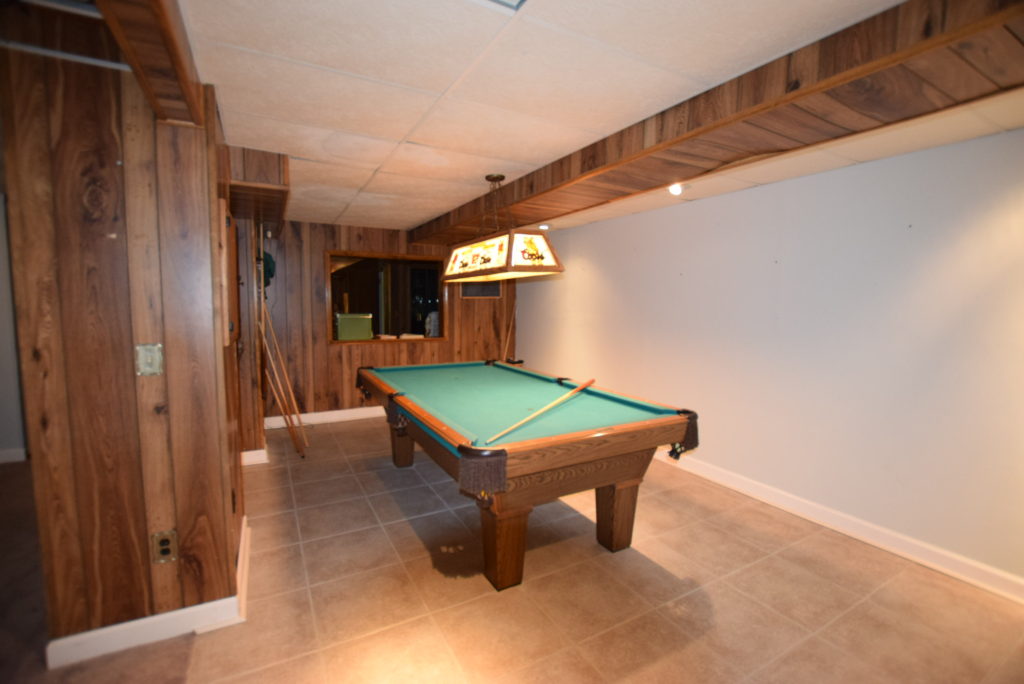 Phew!  I think that about covers it for the basement area.  Check back next week or a picture tour of the home's property which is the REAL reason we bought this house.
Save