It's a staple in many of my designs. A good ottoman or pouf is an excellent way to fill an empty void in the floor space and is so, so versatile in both use and styling. They provide so much more than a place to prop up our feet. Ottomans can be extra seating, double as a coffee or end table, be a pedestal for art or tchotchkes, and in some cases, include storage inside. I use them solo and sometimes in sets of two or three. Afraid to commit to a bold color or pattern on an entire sofa or chair? Add a bold ottoman instead. Want something easily moved from one room to another or swapped out for the seasons? A pouf just might do the trick.
Ottomans have been around for a long time but I think our recent love affair has become so popular because the life of the 'ol extending recliner with foot rest operated by the little arm or button on the side has passed (you know the ones I'm talking about, your grandpa still has one he won't let go of). People are more style conscious today and are opting for a more updated look of an armchair and separate ottoman. Thankfully you don't need to spend an arm and a leg simply to have a place to prop your legs. Here are a dozen great ottomans and poufs under $200!
Discount Dozen: Ottomans and Poufs Under $200!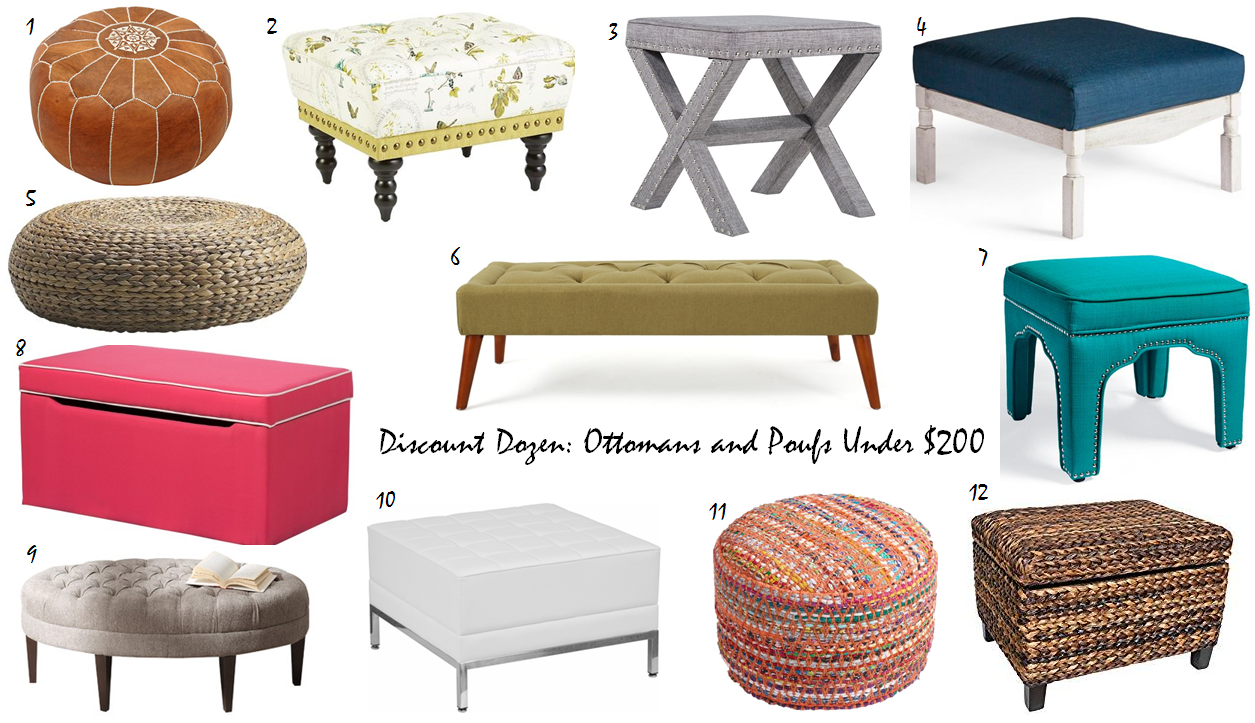 1.  Soukaina Leather Pouf Ottoman    $174
2.  Botany Green & Ivory Ottoman  $199 
3.  Parton Linen Fabric X-Base Nailhead Bench    $67 
5. Alseda Banana Fiber Stool    $30  (these are low so stack 2, and you still won't break the bank!)
6.  Williams Tufted Fabric Ottoman Bench     $123 
8. HomePop Kids Storage Ottoman   $123  (don't forget to shop the kids section – nobody has to know it was originally intended to hold toys!)
9.  Keats Button Tufted Oval Ottoman     $139 
10.  Hercules Imagination White Leather Ottoman      $199 
11.  Multi-Color Round Chindi Pouf    $80