HGTV's 2018 Dream Home
It wouldn't be the start of a new year without a review of the highs and lows of the HGTV Dream Home.  The unveiling of the 2018 HGTV Dream Home was just one small thing to look forward to the night before everyone trudged back to work and school today.  As with the last several years of Dream Homes this one was also a renovation rather than a complete new build, because ya know, who can resist a stunning before and after?  I was particularly excited by this year's contemporary style since it's a similar style to my home that we've been slowly remodeling over the last few months.
Before, Exterior
The HGTV 2018 Dream Home is located in the Pacific Northwest, right along the Puget Sound.  The setting is gorgeous.  The previous exterior, not so much.  Let me rephrase, it wasn't awful, just a bit outdated and weird.  What's up with that asymmetrical ship's watch?  My guess would be that similar to our home, this one was originally built in the mid-80's.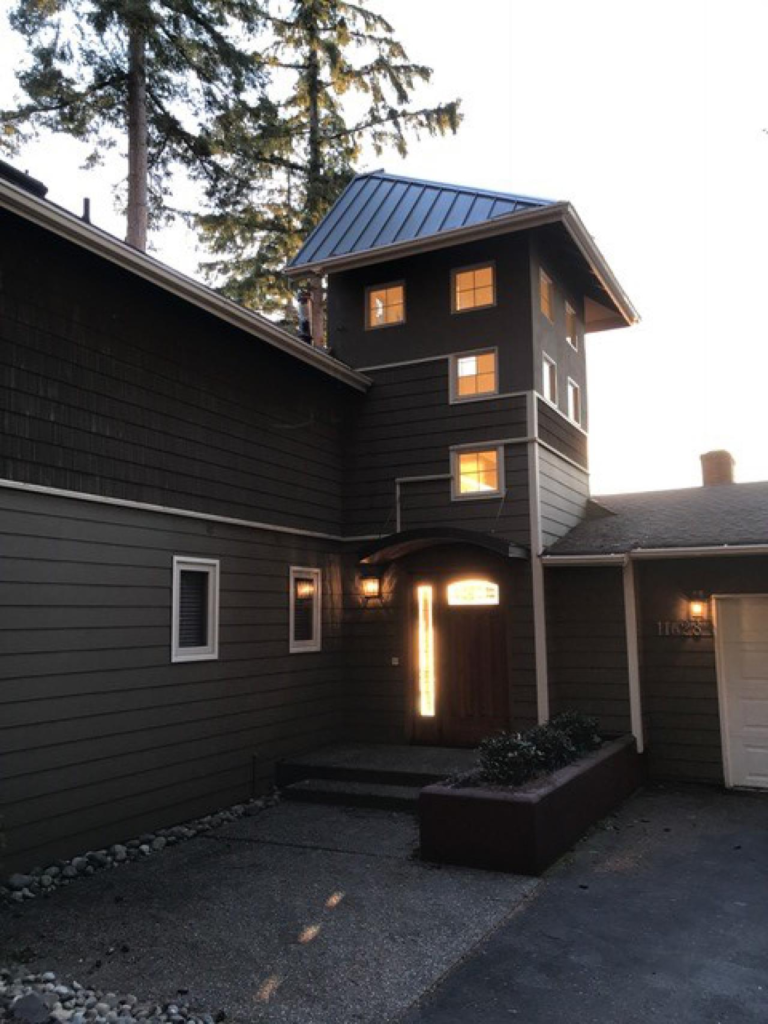 The back of the home looks slightly better, but all you see if building block looking windows, stark white railing, and too-big arborvitae bushes hiding the wall.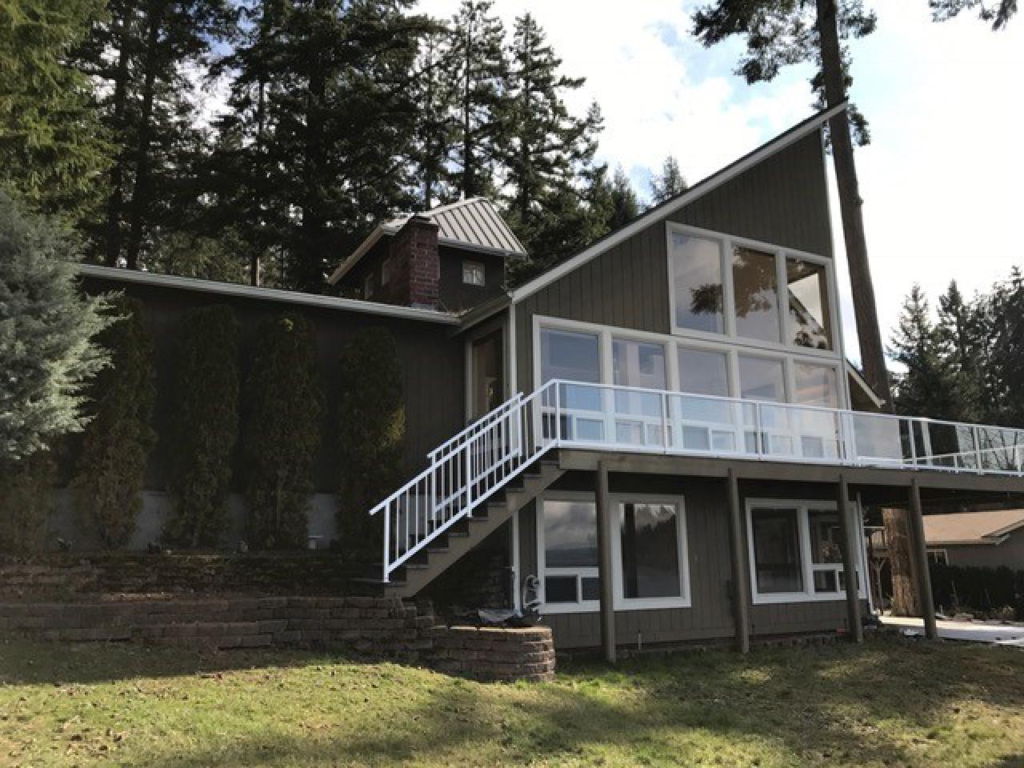 After, Exterior
The after is much improved, sleek and truly contemporary.  None of that "I am a contemporary but would rather be coastal" that it previously possessed.  The metal roof over the entire home probably cost a pretty penny (I've been researching them as a possibility for my own home) but makes such a difference.  Removing that ship's watch was also a great choice and the updated driveway, garage doors and landscaping don't hurt either.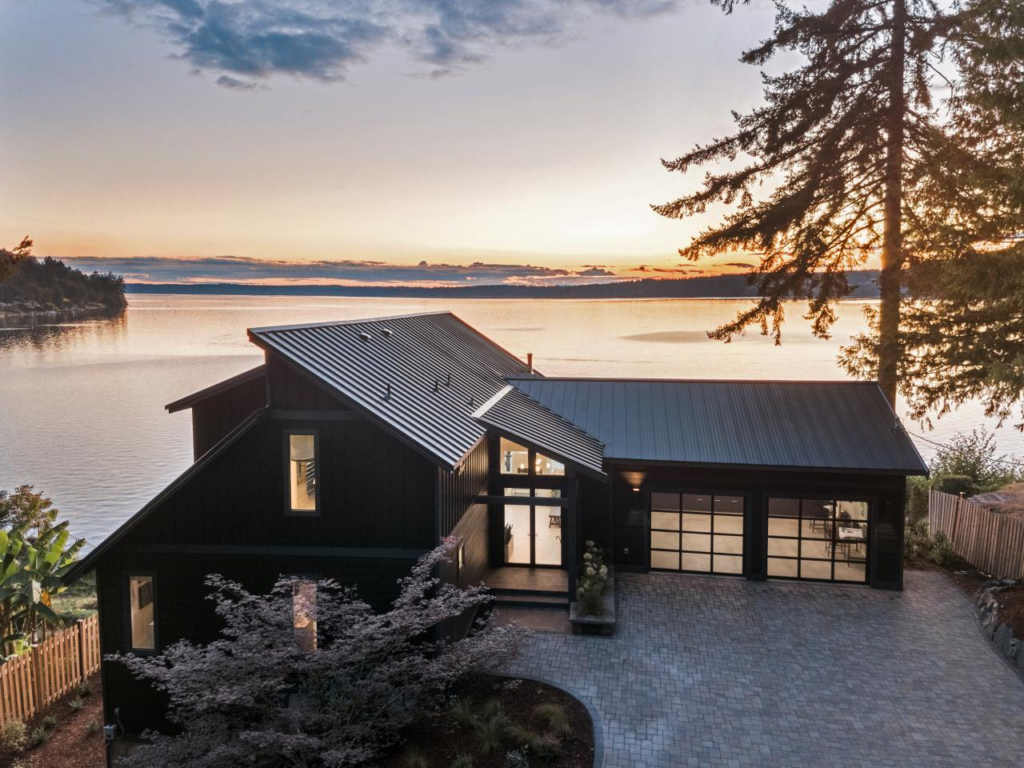 This home is just reaffirming many of the contemporary design choices we're making for our own home, and the black modern windows and dark painted exterior help immensely.  I wish HGTV would name all of their products somewhere and the cost for the product and the installation and construction. I've found that black (interior and exterior) windows are not as readily available as one might think, and when you can find slick black contemporary windows, they are $$$$!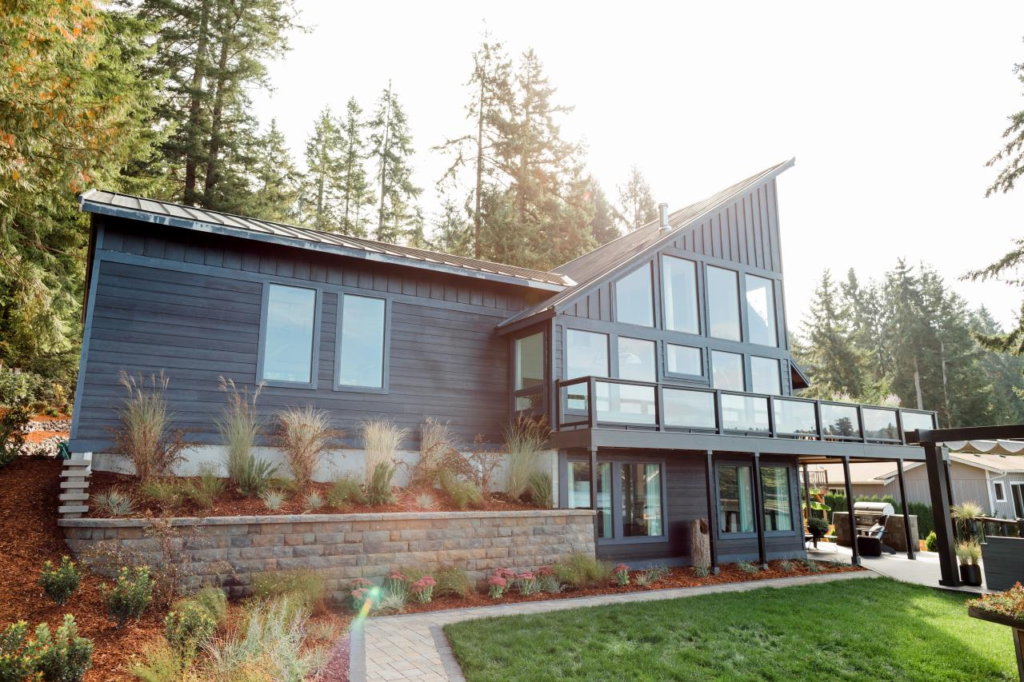 Dream Home Interior
I won't bore you with all of the choppy wrong-ness of the before interiors, you can check them out for yourself on HGTV's website but I did want to take you through some of my favorite parts of the completed interior.
Ok, here the view says it all, and perhaps that's why they chose not to go with black interiors on the windows here but rather white with white trim? The millwork is simple and contemporary and honestly fades away unless you're really looking for it, making the Puget Sound views the main event.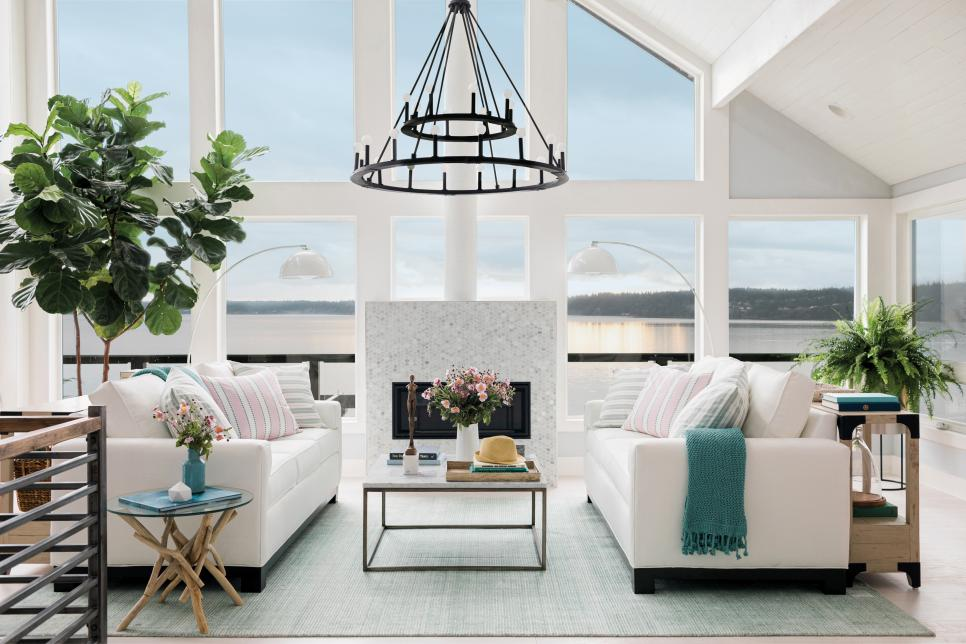 I'm torn about the fireplace placement.  On one hand it's ideal to have your great room furniture be focused on both the fireplace and the views all at once, but a fireplace of this size does take up a good portion of that view.  And while the look of this one is very coastal, I'd have gone with something a bit more contemporary that didn't take up so much real estate, like this one here by Malm.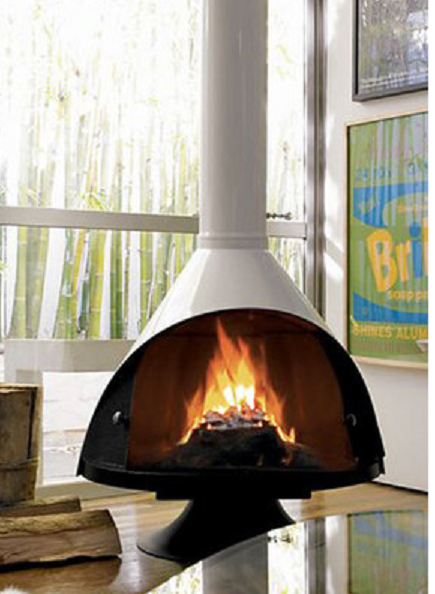 I am still a sucker for a white kitchen, and I really love that they are using a shaker cabinet in a contemporary home.  (More positive design affirmations for my home – yay)! The metal and wood railing are perfect and add the modern edge while the white wicker pendants over the island give it just enough coastal kitsch.  I may need to pick up these counter stools for my own home.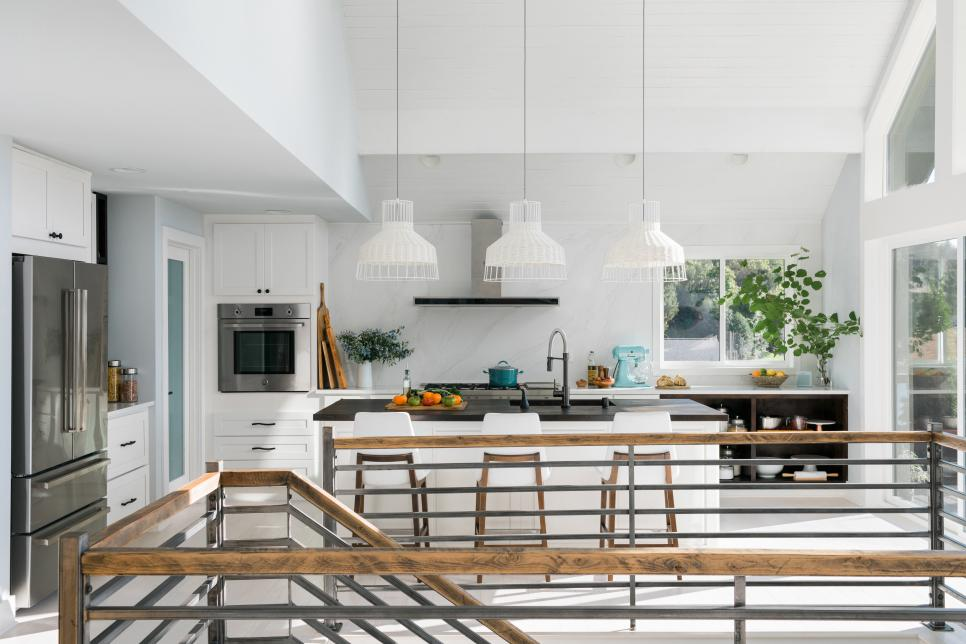 This entry door is perfection.  You can see in the second pic below it's a very modern black interior/exterior French door.  I am hoping that this is what our new Marvin Contemporary door will look like in our in-progress kitchen. It's harder to find modern looking French doors without mullions than you think.  They are not a standard off the shelf Home Depot purchase, trust me.  I'm a bit disappointed by the random hooks just hung on the wall with no framing or bench.  The hooks themselves are adorable whale tails but I wish this wall had been framed out (maybe with some board and batten) so that the coats weren't the focus. The art is gorgeous though hung at a weird spot, probably to detract your eye from random coats.  And the idea of a burled wood boot tray in the Pacific Northwest is a smart and good-looking idea.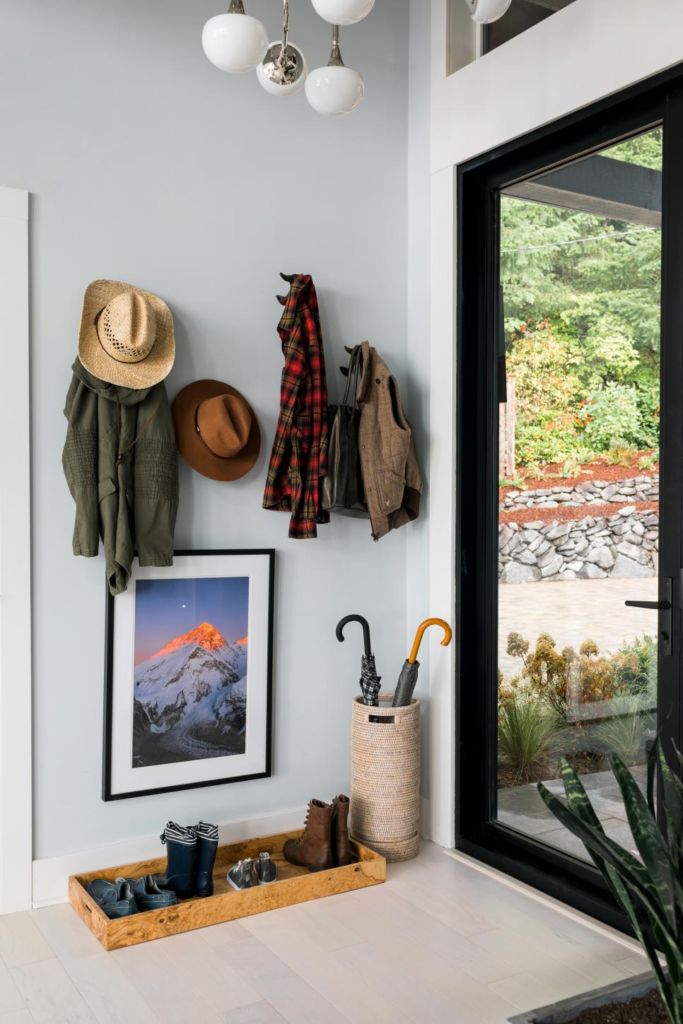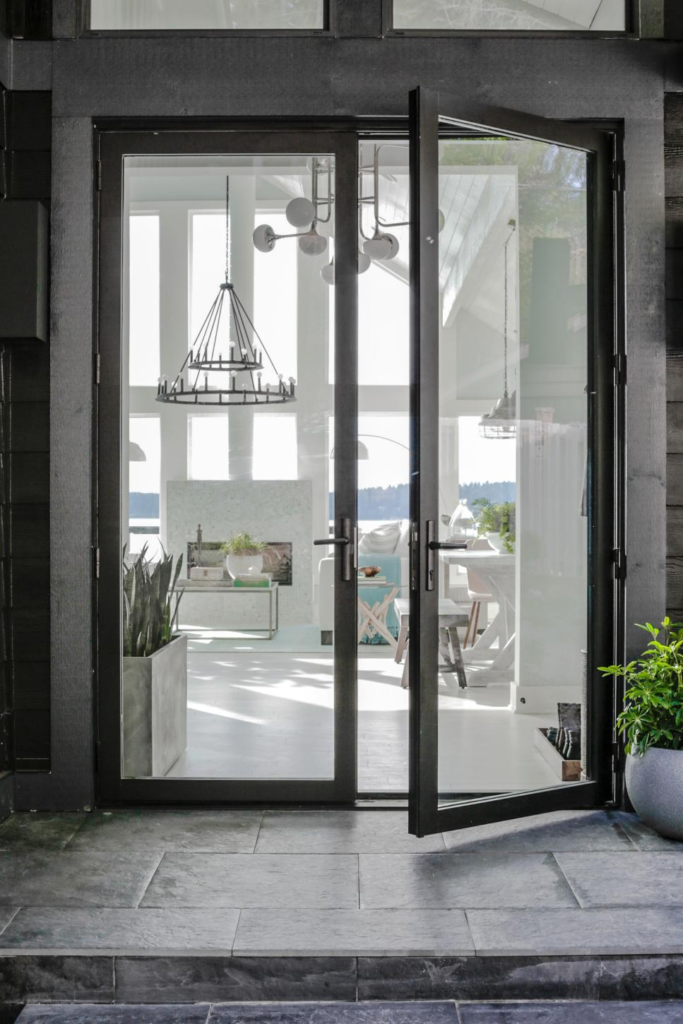 In my opinion this is the best bedroom of the bunch.  The blues are calming, but not boring, and this is a great example of how things don't need to be perfectly matchy-matchy but can still "go."  See how those mirrors are similar but not the same, and the desk and dresser, too?  I also like how larger furnishings are used as nightstands.  Lots of folks don't have room for a bed, nightstands and a desk and dresser in their room.  So it makes perfect sense to replace some of the less utilitarian pieces with those that can do double duty.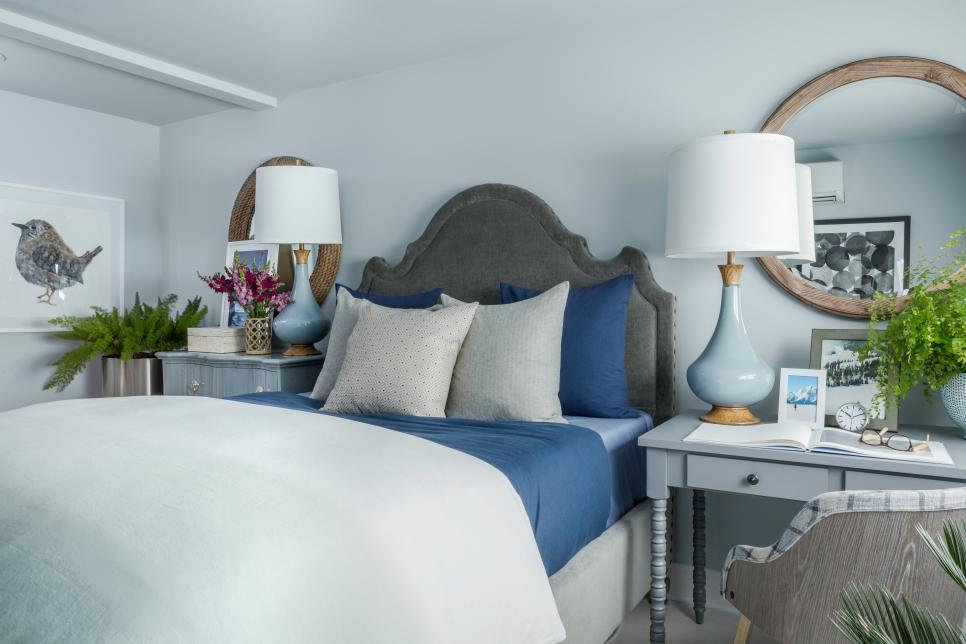 There are so many things I like about this vignette even though I don't love pink.  I adore large scale art.  I love this fish sign and it fits this house outside Seattle perfectly.  My other faves here are mixing dining chars with a bench, the mismatched table and bench and  the pendant trifecta.  There is so much interest and mixing of styles here that you don't even really miss an area rug under the table… ok maybe I miss one just a little…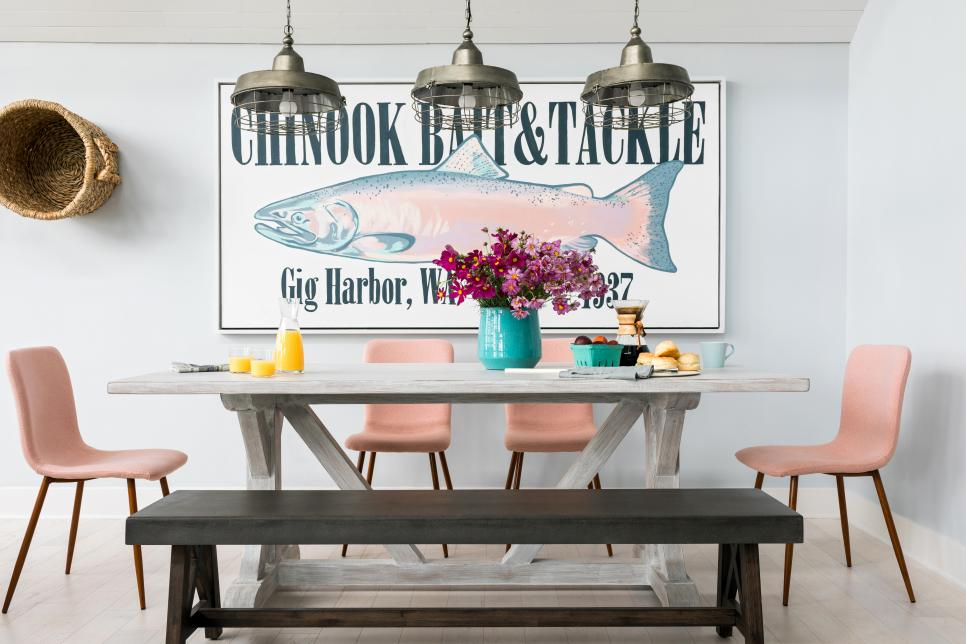 Finally, the outdoors.  The view from this property is just amazing.  And while it may rain a ton in the Pacific Northwest, for those times when it is nice enough to be outside, it helps when it looks like this space.  Who wouldn't want to snuggle up next to that fire pit or have a meal with family and friends at that outdoor table?
Outdoor Entertaining Spaces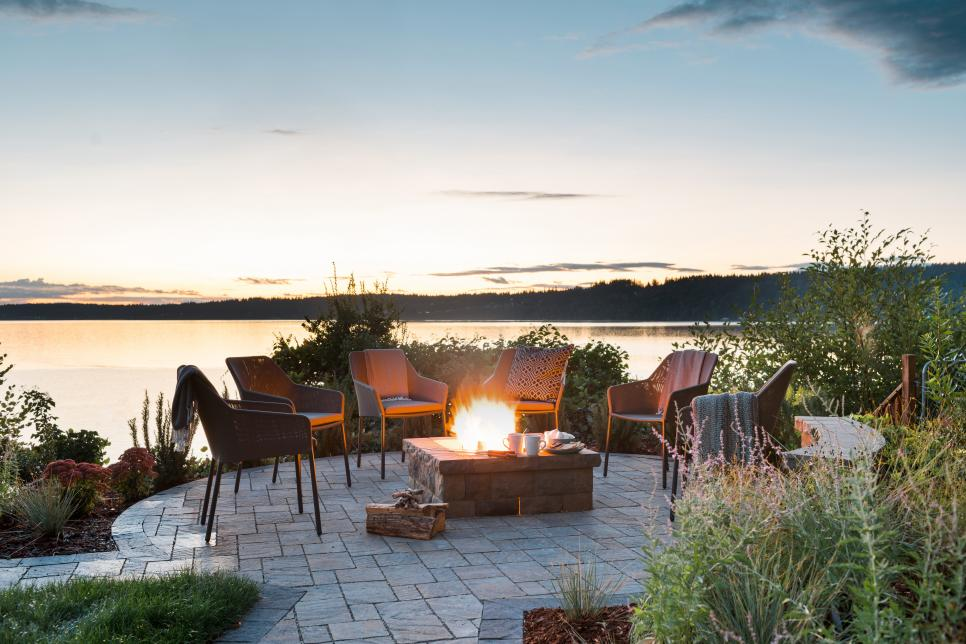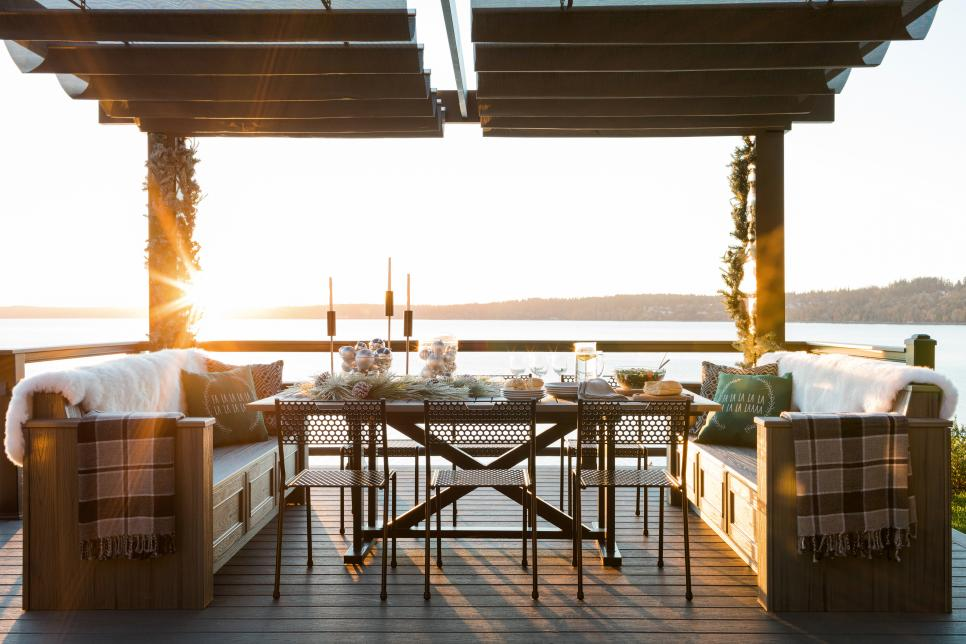 And HGTV, if you're reading, here's what I really wanna know:
1) How much does everything cost? Like regular retail cost that your everyday person would pay?
2) How much time does it take Ryan Patrick Flynn to design all these spaces?  How large is his team?
3) Next year can you create a list where everything came from. I mean everything.  Shingles, doors, windows, counters, light fixtures, a duvet, everything.  Not just those that pay sponsorship.  It doesn't have to be emblazoned anywhere, just a list, no logos, no ads.
4) How much did you pay for the fixer initially?  How much did you put into it (labor and materials)?  What's it worth now?
What were your favorite parts of the 2018 HGTV Dream Home?  What do you want to know about the HGTV Dream Home?  Lemme know in the comments, maybe we could get a petition going 😉