Last Wednesday we had a few options for ladies for Thanksgiving, this week, here's a few options for the kids!  I do this because my kids are too old to listen to any advice I have on what they should wear.  They have their own fashion brains, which for both of them could probably best be described as sporty-comfy.  Let's see if I can predict what they'll wear on Thanksgiving (I'll try to snap a pic and post it after Thanksgiving to see if I predicted correctly).  My son will be in Adidas training pants, a Bayern Munich zip up track jacket and sneakers .  My daughter will be in leggings, probably grey or black, a T-shirt and maybe a zip-up turquoise (her favorite color) sweatshirt and sneakers.  Long gone are the days when I can dress them up like little mini-mannequins so instead I'll style imaginary kids who would never dream of refusing my sage style advice…
For the boys, a comfy sweater (definitely NOT an itchy one) atop a flannel plaid shirt (because flannel never needs ironing, and I'm wary to iron my own shirts let alone a kids shirt).  Star Wars socks serve as a coordinating accessory so there is something that they actually will want to wear.  And those shoes are my favorite!  I am going to see if they make these in adult sizes and maybe I could convince my husband to wear them… or hmm…  I think I can fit into a boy's size….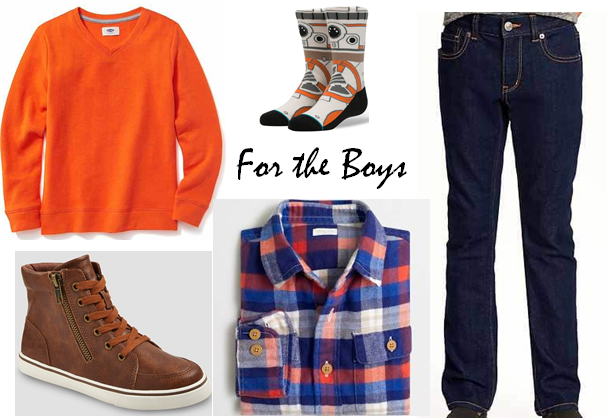 French-Rib V-Neck Solid Sweater for Boys      $20
Boys' Florian Zip Up High Top Sneakers Cat & Jack    $25
Boys' Patterned Flannel Shirt    $23
Built-In Flex Super Skinny Jeans for Boys   $22
For the girls, a comfy dress that can go outside to play before turkey when paired with a cozy puffer vest.  Easy slip on/off suede moccasin boots can accompany this dress or countless future outfits with leggings or jeans.  Why have a hat with one fuzzy pom-pom to pet when you could have this one with two pom-poms?  And the girls love Star Wars too – but we're keeping it subtle and classy here with the Millenium Falcon necklace.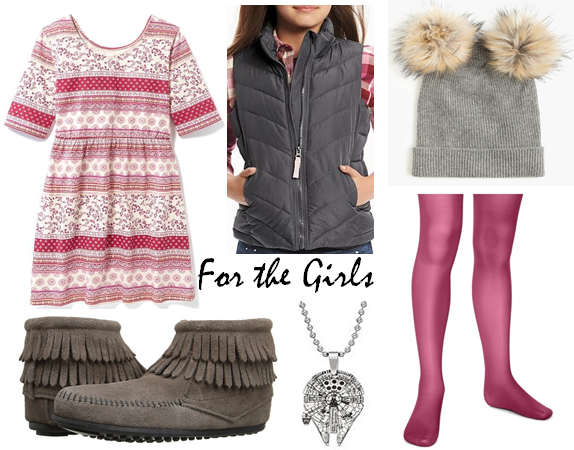 Patterned Fit & Flare Dress    $9
Fitted Frost-Free Vest, Marquee Moon   $24
Minnetonka Kids Double Fringe Side Zip Boot   $45
Star Wars Stainless Steel Millenium Falcon Pendant   $25
HUE Girls' Opaque Tights Raspberry   $6