Probably the best way to describe the current style of home I live in is a "modern colonial". This is designer talk for builder grade, brick front, siding on 3 sides, tract home, built in the early 2000's that looks almost like all the other 200 homes in the neighborhood.   No, not ideal, BUT it lends itself to a number of interesting decorating techniques with little risk of truly screwing anything up.   I've been looking for a way to incorporate a paneled room.  I'm not talking about creepy knotty pine paneling but a more modern but still classic look.  I need to figure out how to work this into my place and found these below to be inspirational.
This one is a dark matte grey that looks (combined with the styling here too) minimalistic and shaker inspired.  This would be a relatively inexpensive and easy one for a DIYer to recreate as there aren't any mitered joints.  You could affix inexpensive pieces of pine that have been ripped on a table saw lengthwise at right angles to each other.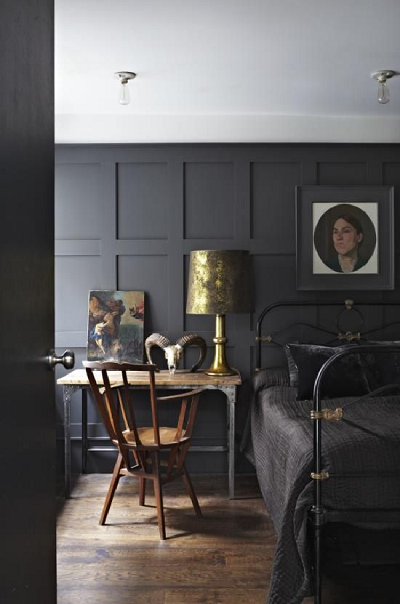 This powder room by Ty Larkins Interiors has a black high gloss paneling that makes this small space look grand, not what you'd expect moody black paint to do.  I really love the overhead light fixture since it's a bit unexpected style for a bathroom.  (I'm still on the fence with the second wall mounted light).  I wonder if the homeowner is constantly dusting off the horizontal ledges of molding? Meh, it's worth it.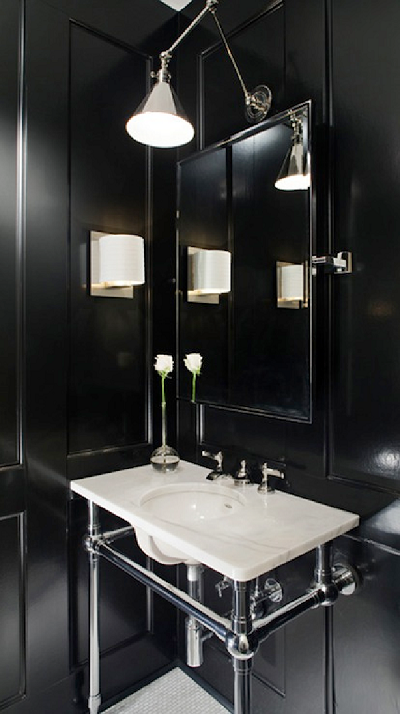 So you've saved up enough to buy a beach cottage, but of course it comes complete with that very scary knotty pine paneling on the wall.  Naturally you can't leave it like that, so what to do?  Well… paint it navy blue.  While you're at it, paint everything navy blue, the walls, the trim, the bookcases.  Adorn it with some maps and cute chairs (which I wish were upholstered in something different) and it looks like you meant to put up this paneling, on purpose!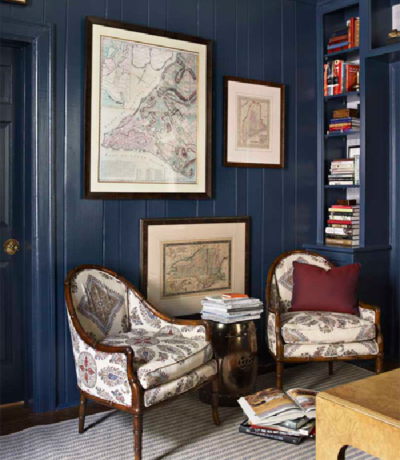 Okay, admittedly, this is a lotta look, but I think if you were the owner of this home you can get away with it.  Can anyone guess?  Yep, it's one of the dining rooms in George Washington's Mount Vernon Estate.  While I'd never recreate a room that looked just like this I do occasionally like to borrow ideas from classic American homes, especially those that are befitting of the style of the region (Mount Vernon is right down the road from me).  So a more modern take on a vibrant green with wainscoting would be gorgeous with old refinished heart pine floors.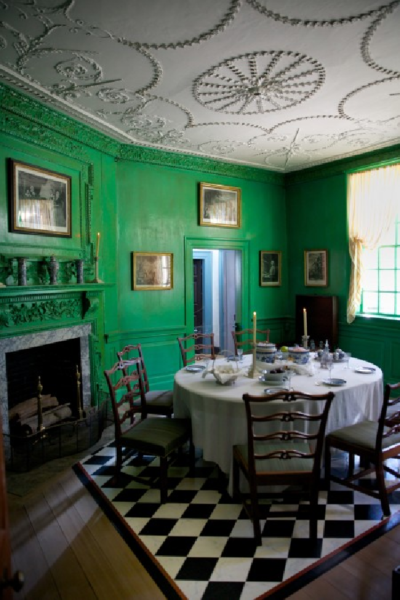 Jumping in with a deep paneled wall right away can be scary for some color phobes. I do adore this more traditional integration of paneling and deep color.  White board and batten 2/3 of the way up the wall and topping it off with a deep navy can give either a traditional or nautical look.  Best thing, it's easy to DIY this look.