Continuing our journey for finding a vacation rental property, we had a whirlwind weekend of seeing about 8 houses across the Outer Banks towns of Duck, Corolla, and Southern Shores.  We had seen a house that we liked very much but the current owners couldn't tell us much about its history, things like the last time the HVAC was replaced, how old the roof was, if the pool pump had been replaced etc.  That was a red flag for us, but not totally surprising as a lot of homes change hands frequently in this beach community.  I think many people idealize the concept of owning a beach home but then the reality sets in that owning a rental home is a lot of work, homes near the beach require so much maintenance and the older the home is, the more work is required and accordingly the more money necessary for upkeep.  It's not all relaxing in the hammock and pina coladas at sunset.  Therefore, some people give vacation rental home ownership a go for a few years and then throw in the towel.
We were having a heck of a time finding a home that met our requirements.  Most homes were disqualified due to location, either lack of proximity to beach or too close to major roads.  As we searched we did see a plot of land about a quarter mile closer to the beach than the aforementioned house.  This piece of land got us thinking that perhaps we should build our beach house.  Certainly, there would be benefits to building; we would be able to get exactly what we want and have a brand-new home requiring little maintenance and we could finish and furnish it to our liking rather than falling in on old dilapidated furnishings.  However, there would be disadvantages to this approach as well; total end cost would be higher, would require work to find a builder and architect to design the home from scratch resulting in a longer wait time.  No matter the disadvantages, we decided to look at several lots that met our requirements for flood zone, location, and neighborhood, while we still kept an eye on other homes coming on the market.  We also simultaneously embarked on the process of researching local builders.  There is a pretty large selection of builders of varying degrees of experience across the small Outer Banks community.  If we had known anyone who had built in OBX previously we would have asked for a recommendation, but since we did not, we initiated our own research.  Of course we started our search just like many other super important searches in our lives, with our best friend, Google.  Through Google we came upon the Outer Banks Home Builders Association and read about their annual OBX Parade of Homes Competition.   The past winners of this competition rose to the top of our potential builder picks.  I'll discuss more in the next installment about how we went about choosing the best builder for our dream home, but we did make that selection WHILE we were still searching for a lot and that was probably one of the best decisions we made.  Our builder even came out to a few potential home sites with me to debate their positives and negatives, which was immensely helpful as he was able to comment on things I was not smart on.  For example, one site was completely wooded and significantly "gullied" in the center.  Our builder pointed out that we would need to bring in tons, yes tons, of fill dirt to make this lot buildable.  In the end, after significant searching, we settled on a wonderful partially wooded, mostly level, half acre which was only about 1400' from the beach.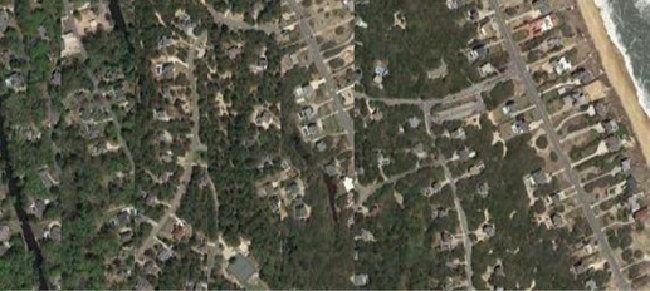 We'll pick up the next installment talking a bit about how we successfully negotiated a great price for our land and how we selected the best builder.