Sure, it's nice to flip through the pages of Southern Living or troll Houzz to longingly gaze upon houses with sweeping verandahs, wrap-around porches, or terraced front yards lush with mature shrubs and blooming flowers.  However, the more realistic view of our home's curb appeal likely consists of a small patch of lawn that may be more weeds than grass, a miniscule porch or portico, and an ugly cement walkway.  If you have a smaller home and a smaller front yard, how do you get that elusive "curb appeal"?  The simple answer is to distract the eye with appealing things to look at, which is, truthfully, easier said than done.  Here are a few tips to up your small home curb appeal from the simple to moderate to the more difficult.
Easy:
Add 2 planters that match on either side of your door or walkway.  Go for a tall planter with a simple boxwood or evergreen for a classic look. This simple front door from Cococozy  looks loads more put together with the boxwoods flanking the black front door.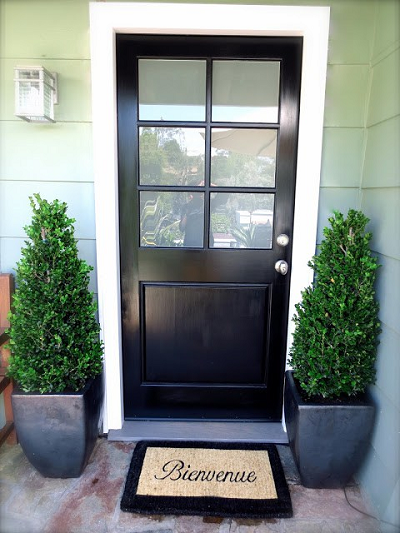 The biggest mistake people make with large pots and tall planters? Well you spent probably over a hundred bucks for large planters and then you figured that you'd want to show off some colorful flowers in them…. only the flowers are usually miniscule compared to the scale of the pot.  So, if you're using a large pot or tall planter, go with a large plant that matches the scale of the planter.
Easy:
Change up your house numbers.  Most of us probably have numbers that look similar.  Why? Because whomever built the house put the cheapest numbers possible on.  They probably look something like this, right?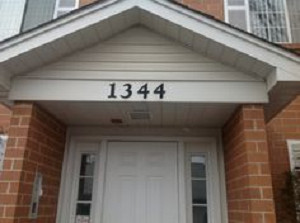 A new font can make a big difference.  There are a ton of options out there, modern, art deco, a variety of metals or tile.  Such a simple switch, for just a few dollars and a screwdriver…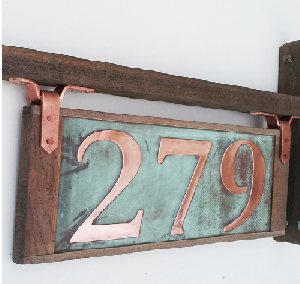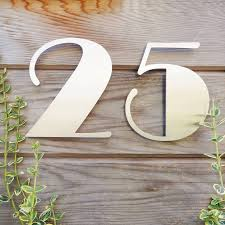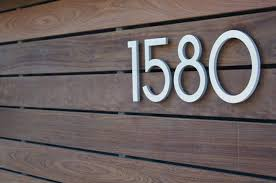 Moderate:
Brighten up the front door with some paint.  Sure, it may be a bit of a hassle, especially if you have to go through the process of getting approval from a homeowner's association, but a new coat of paint on the front door especially in a bright or unexpected hue can make a world of difference.  Be sure though to limit the colors on the front of your house to no more than three or it can go awry quickly.  So, if you have red brick (a neutral, doesn't count as a color), white trim, black shutters, you can introduce a new color on the front door.  But if you have a blue house, white trim, cedar accents, adding another bold color might be a bit too much.  These doors here are so bright and inviting!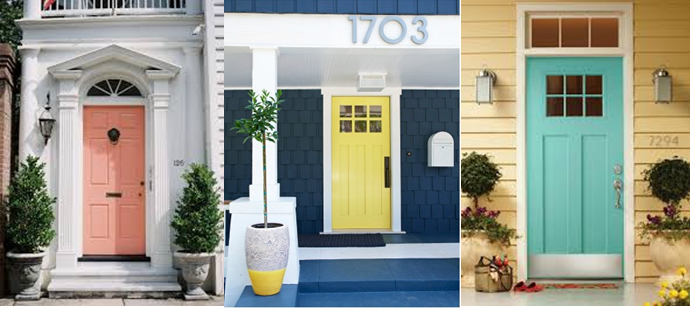 Moderate:
Add new porch lighting.  Typical homes probably have front porch lights that look like this.  The ones that builders put on community homes are almost always too small (and usually lacking style).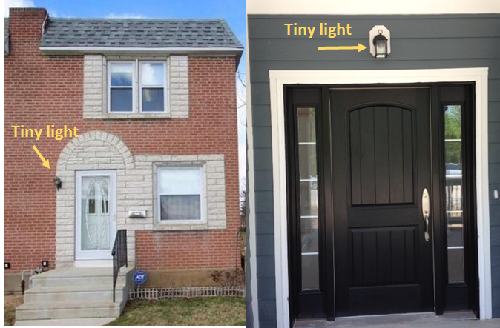 Instead, opt for a light or a pair of lights with a bit more visual impact, in either size, finish or both.  These are all better scaled and have much better visual impact.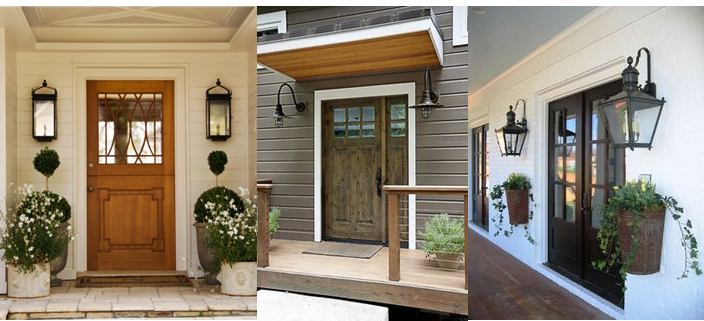 Difficult:
Swap out that boring cement walkway for pavers.  For most, unless you are an uber-DIYer, this will require you to hire someone, especially to remove the old cement walkway and to haul it away because your garbage man won't appreciate gigantic chunks of concrete in your trashcan.  However, the impact will be amazing and immediate.
This is not appealing, I would not want this walkway to welcome me home every day: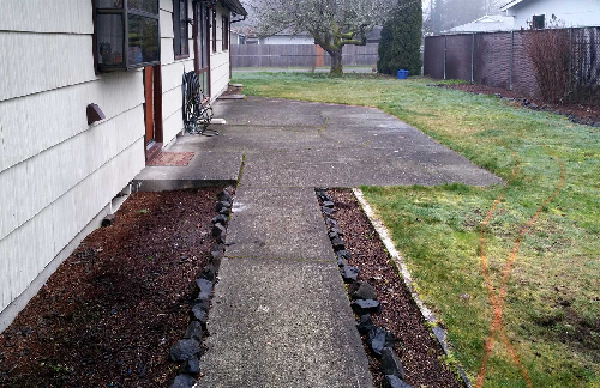 However, these walkways would be downright enjoyable to stroll along:

Difficult:
If the front of your house is naked and adding a complete porch is out of the question, consider adding a small pergola.  Sure, you'll still need to probably consult a professional to do it but it's not nearly as much of an investment as a porch but will provide instant curb appeal and visual impact.