There was a show on HGTV a few years ago that I really liked called The High Low Project.  It's unfortunately no longer airing, but the concept was fantastic.  A client had a dream room that they saw in a magazine that was finished with very high end furnishings that naturally the client couldn't afford.  The designer would then recreate the expensive look for a mere fraction of the cost.  I was always amazed to see that with a little ingenuity and smart shopping that a great looking inexpensive room was achievable without having to resort to dumpster diving or hand crafting everything.  Sure, there was some refinishing, repurposing and yard sale shopping, but it certainly wasn't the only trick up the designer's sleeve.
I personally enjoy the challenge of creating a design on a budget. (This is probably because I am cheap….ahem, thrifty….ahem, resourceful).  I have never once had a client tell me that they had a limitless budget.  Don't get me wrong, while that would be fun too, the reality of the situation is that there is always a budget and it's great to know that good design is possible with just a little bit if money.
So in the spirit of The High Low Project I am creating what will hopefully be a recurring spot on the blog that I'm calling Highbrow, Low Budget.  This week, I kept the bright pink chairs as the focus in each room.  These affordable beauties go just as well in the highbrow room as they do in the low budget room.  The highbrow room comes in at almost $33K while my lower budget option was just over $4K.  Still a fantastic look for a fraction of the cost (and honestly I like some of the low budget items better anyway).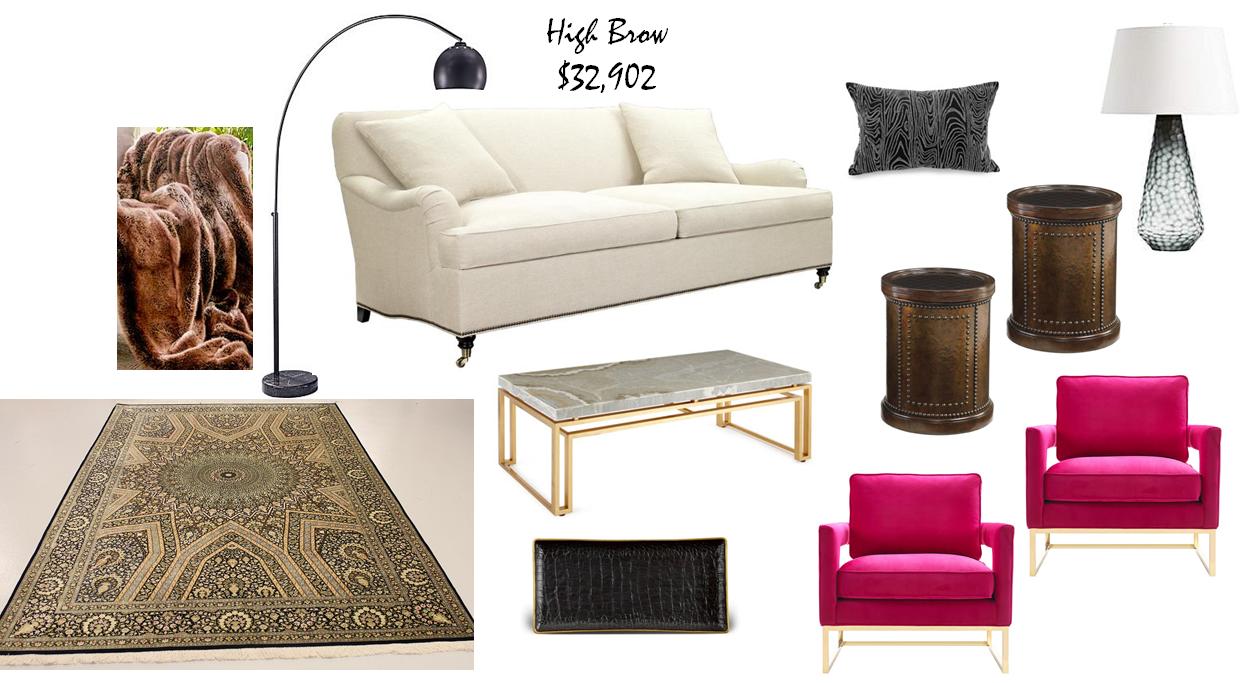 Hickory Chair Silhouettes M2M Sofa $ 9810
Cynthia Rowley for Hooker Furniture Serendipity Coffee Table $ 2799
Spade Arm Chair by Mercer41 $490 x 2=  $ 980
Tommy Bahama Kilimanjaro 20 Round Harcourt Tangier Side Table $1214 x 2 = $2428
Qom Persian Rug 7x 10 $ 15244
George Kovacs Dorian Bronze Arc Floor Lamp $378
Arteriors Home Nathaniel Black Chiseled Glass Table Lamp $408
Crocodile Rectangular Tray by L'Objet $170
Mitchell Gold Faux Bois Throw Pillow $385
Faux Puma Fur Throw Blanket $300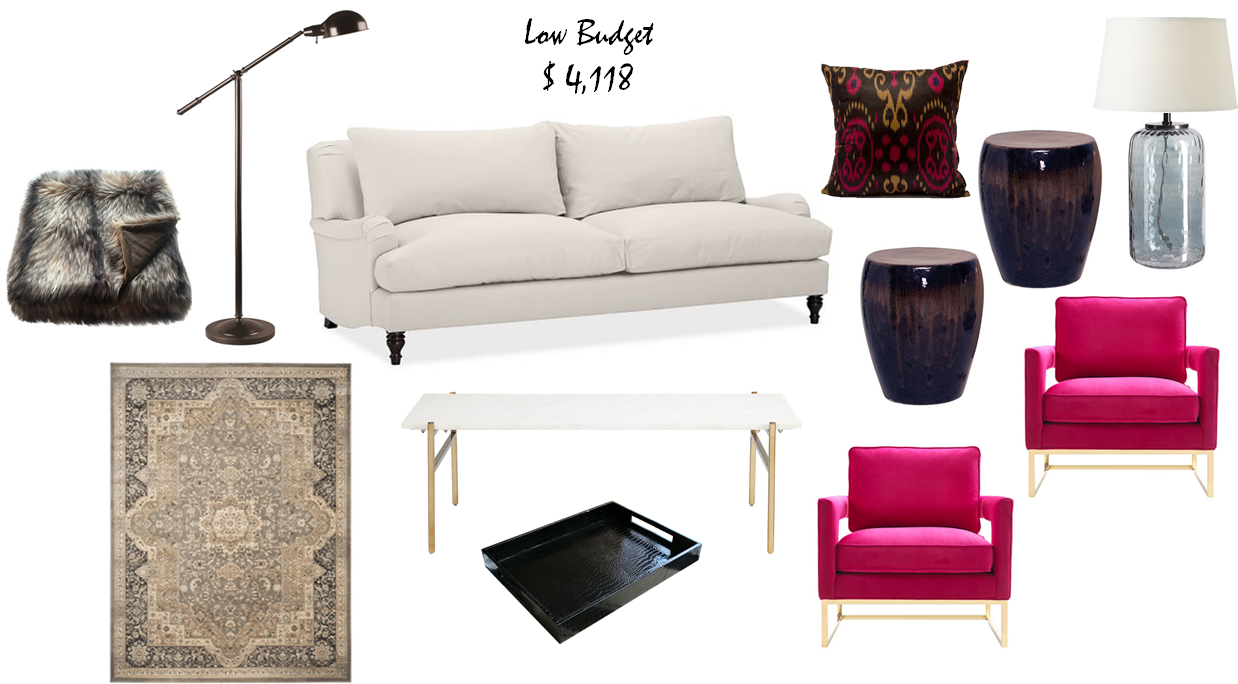 Pottery Barn Carlisle Upholstered Sofa $1359
CB2 Slab Marble Coffee Table $549
Spade Arm Chair by Mercer41 $490 x2=   $ 980
Vincent Rug in Taupe & Black 7 x 9 $289
Impressionist Garden Stool Java Brown Glaze $278 x 2 = $556
Alana Luster Glass Table Lamp Base Indigo $120
Tapered Medium Linen Drum Shade $59
Lite Source Jensen 1-light Floor Lamp Dark Bronze $97
Threshold Raccoon Faux Fur Throw Blanket $34
Etsy Silkway Ikat Pillow Cover $20
American Atelier Croc Faux Leather Tray $55