I feel so wrong.  You see, part of me wishes my kids would hurry and grow up already for a very superficial and selfish reason…. I'm dying to make their playroom into a home gym.  It really is the ideal spot for a gym.  It's an infrequently used 5th bedroom in my basement which right now contains little more than some shelves, about 5 million Lego pieces, and 2 large Lego platform tables.   I know, hoping to curtail their childhood joy all in exchange of my pursuit to be my fittest by the time I turn 40 makes me a bad mom.  So, I guess I'll hold off on a full-scale basement playroom to gym conversion for a while and maybe just takeover a little part of it.  That wouldn't be so wrong, would it?  When you think about it we're really practicing sharing, right? Sharing is good mom behavior, for sure.  Meanwhile, I can scavenge Pinterest and Houzz for lots of great home gym ideas so that I can be ready to execute in a few years.  Hmmm… wonder if I could get the kids on board with making me a full-size Lego weight bench or cable machine…. anyway, check out these home gym beauties.
I suppose my space sharing problems would be non-existent if I had a WHOLE FREAKING BARN to turn into a gym, like these.  Whoa.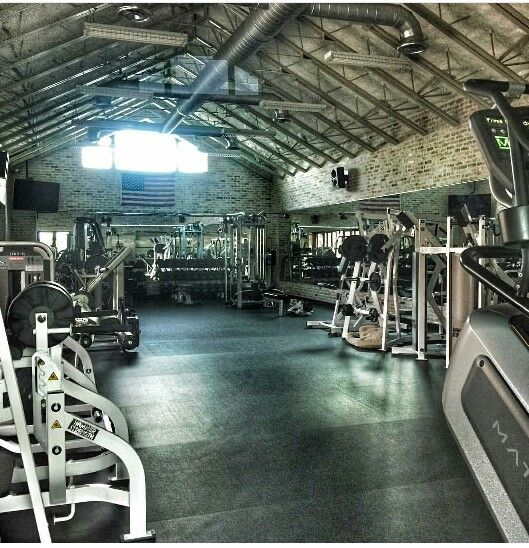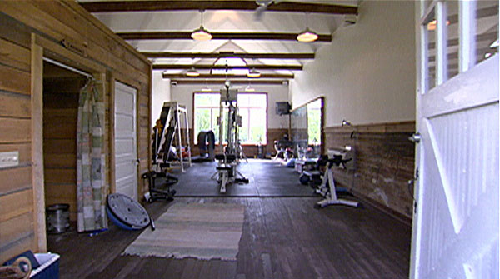 Or maybe a modest pool house / casita that could host my gym. Of course I'd spend more time by the pool than working out.  My willpower is pitiful.  Thankfully my will power IS strong enough to not be tempted to play with Legos, another reason I should be grateful that I will mix my workout space with kid play space.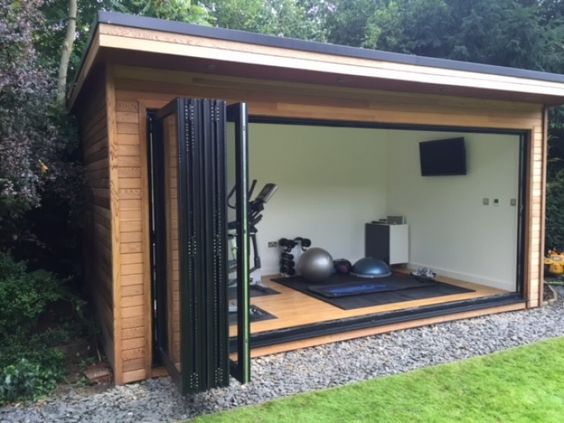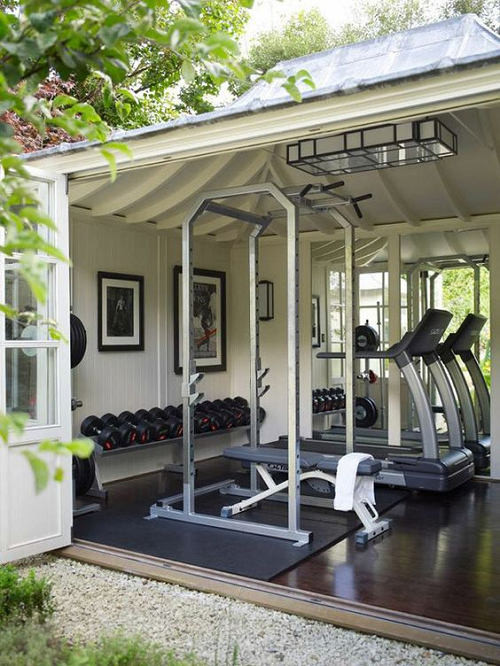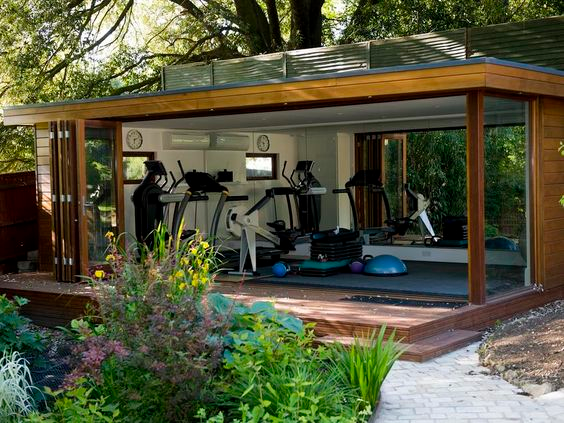 Home gyms are a great place to introduce some BOLD color and a way to have your workout feeling energized before you even break a sweat. I love how they used some inexpensive Ikea chunky framed mirrors in the blue gym instead of the ubiquitous full wall mirror.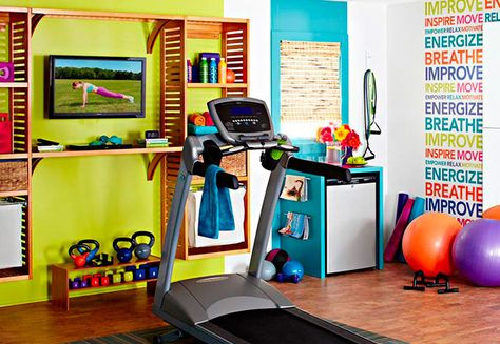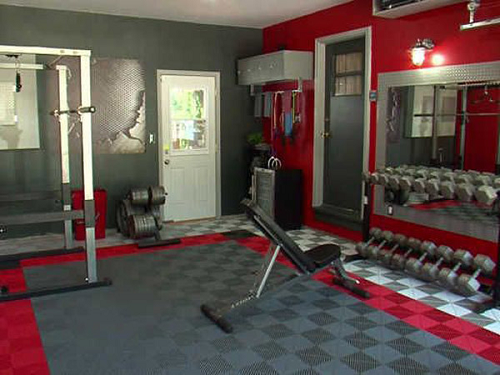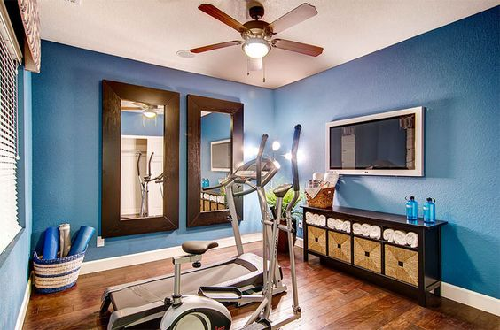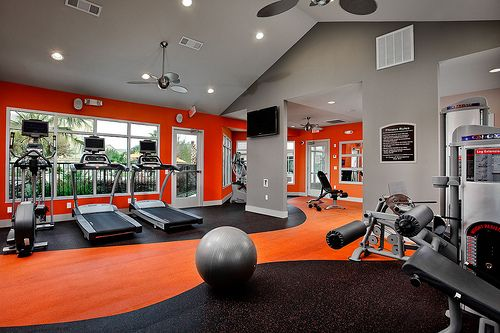 For those of you named The Rock or John Cena and want a gym more than a living room, these are for you.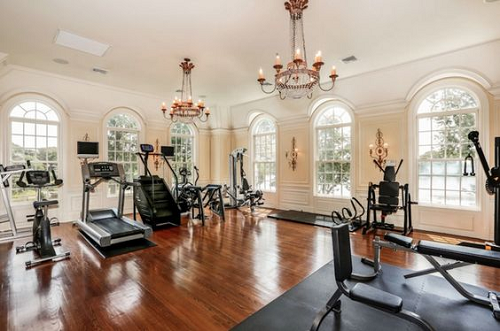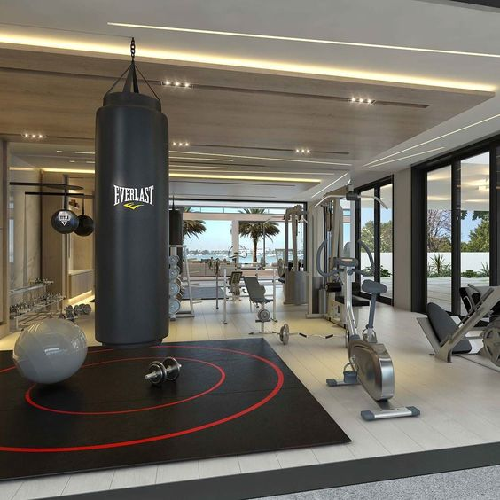 High style doesn't have to elude a small gym.  Patterned walls and stylish accessories can soften the look of uber-industrial equipment for a welcoming home gym experience.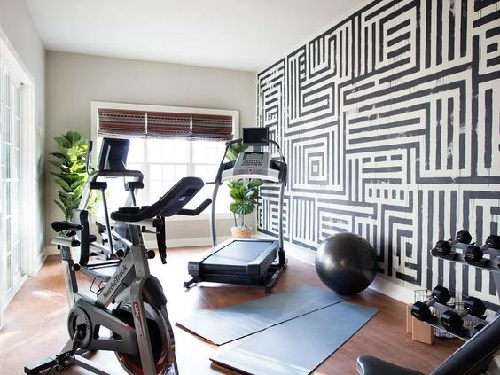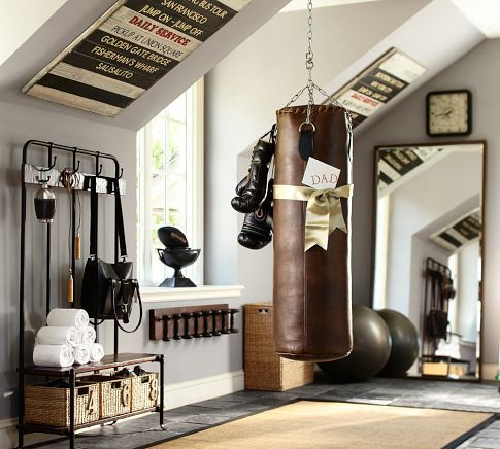 Real hardwood floors are not the best option for home gyms because they can get nicked or dented from a dropped dumbell, but these wood-look foam tiles will ensure the gym floor looks fantastic and withstands the rigors of pumping iron.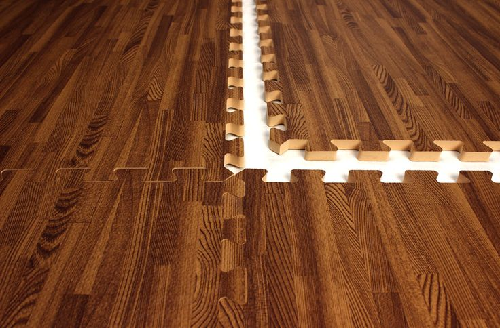 What elements are a must have in your home gym?  Go get your workout on!